Living on the Smutketeers blog!
Hi everyone-Just letting you know that I-along with my alternate persona, Eve Berlin-have really given up blogging on my own in favor of the much more fun and exciting blogging with my fellow authors R.G. Alexander, Crystal Jordan and Karen Erickson over on the Smutketeers blog! That blog is

very

active, with amazing guest authors, awesome contests and smutty blog topics! I hope you'll visit me there-and on our Smutketeers Yahoo group, where we talk with our readers every day, post pics of our costumes, tattoos, shoes, pets-fun! Hope to see you all on the blog or the Yahoo group!
Eden aka Eve

BLOODSONG, Book Two Eden Bradley's Midnight Playground series, is out today from Samhain Publishing! You can find it at MBaM, Amazon, and other retail outlets!

An ancient vampire, an ancient grief…a love that makes his blood sing…

Midnight Playground, Book 2

London, 2069

Aleron is ancient, powerful, immortal…a vampire who idles away his time playing at his favorite haunt, Midnight Playground. His favorite toys: beautiful young men. His game: BDSM, experiencing through the minds of his partners the sensations he can no longer quite feel himself.
The one thing he has vowed to avoid at all costs is love, especially for a woman. In a hundred years he has never been tempted to break that vow—until a lovely mortal woman enters his dungeon to watch him play. And his blood hums the ancient song of long-forgotten desire.
Raised in the Indian slums of London, exotic dancer Meeraj enters Midnight Playground a woman with nothing left to lose, numb to all but the most extreme forms of stimulation. As she watches Aleron's blood play, she knows only his razor-sharp skills will satisfy. And she catches an odd mental glimpse of the grief that shadows his heart.
From their first touch, they are caught up in a whirlwind of exquisite agony that releases their emotions from the weight of the past. Exposing them to risks they've both fought to avoid. Love…and loss.
***
Visit the Smutketeers blog for contests running all week long to celebrate the release of BLOODSONG!
Labels: bi menage, bi-menage, book giveaway, contest, erotic romance, Kindle, paranormal romance, R.G. Alexander, vampire romance
SUMMER SOLSTICE Is Out!
I'm so excited to announce that my latest

Samhain

book has been released a day early and is available now at MBaM!

Buy it now

! If you need to wait for it to be available on Kindle, it'll be on sale tomorrow at

Amazon

and other online outlets!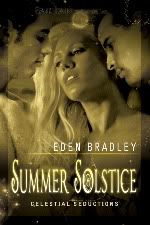 SUMMER SOLSTICE

Book Three in the Celestial Seductions Series
This summer is going to be twice as hot…
The view from Leigh's front porch was never this nice. In fact, her hunky new neighbor is sparking all kinds of naughty ideas about how to beat the heat. Much to her delight, the feeling is mutual—as long as they keep things light. Her divorce left her a little lonely, but far from needy.
Jared doesn't plan to spend much time in his new place before jetting off on his next photojournalism assignment. Leigh's classic, California blonde looks are any man's fantasy. A little flirting, a little playful, neighborly car washing, and it isn't long until their summer fling is in full swing.
Neither can imagine the sex being any hotter—until Jared's sometime roommate and lover, Matteo, comes to town. In the arms of two men, Leigh brings her ultimate fantasy into scorching reality.
Jared revels in the chance to command his two lovers' every move, but when he gets the call for his next overseas gig, he's not so sure he's ready for the fireworks to end. And even as Leigh gives her two lovers the most precious gift—their freedom—she wonders how she'll find the strength to say goodbye.
I hope you all enjoy it! And visit me tomorrow on my group blog,

the Smutketeers

, or on author

Kelly L. Stone

's blog-I'll be running contests on both blogs. I'll also be talking to everyone on the Novel Works

Facebook

page all day. I hope you'll come by and visit!

Eden :)
Labels: bi menage, bi-menage, erotic romance, Kindle, R.G. Alexander, Smutketeers, Summer Solstice
It's All About the Vampires!
This is a very exciting day and it's all about vampires! Today,
R.G. Alexander
's POSSESS ME is out! This is a steamy, sultry, magical book with three linked stories set in New Orleans-and because it's an R.G. Alexander book, you know it'll be sizzling hot! But these stories are also gorgeously romantic. If you want to simultaneously have you
r heart and your panties melted, this one is a must read!
Buy it now at
Amazon
(where you'll find it in print or on Kindle),
Barnes & Noble
or
Borders
online, or at your local bookstore!
And R.G. is running a contest to celebrate on the
Smutketeers blog
, with some awesome prizes, so be sure to stop by!

Also from R.G. Alexander today is the print edition of
MIDNIGHT FALLS
from Samhain Publishing! This is the fourth book in her enormously popular Children of the Goddess serie
s. The other books in the sereies, REGINA IN THE SUN, TWILIGHT GUARDIAN and LUX IN SHADOW are all available now, in print or e-book format. This is a gorgeously written and compelling vampire series written in her usual lush, sensual style-if you love vampires-and I do-you'll adore this series!



Today is also release day for the exciting first book in
Kate Pearce
's long-awaited Tudor Vampire Chronicles, KISS OF THE ROSE! King Henry the VIII and vampires-what a combination! Sexy and thrilling, the perfect paranormal romance set in a fascinating era! Buy KISS OF THE ROSE at
Amazon
,
Barnes & Noble
,
Borders
online, or at your local bookstores now!

If anyone is looking for me, I'm mostly over at
Smutketeers
, my group blog with authors R.G. Alexander, Crystal Jordan and Lilli Feisty. There's always something exciting happening over there, so come by and visit! We have some awesome guest authors scheduled, contests and give aways and other fun stuff, including the reveal of our most recent steampunk photo shoot coming soon! You can also find me on the
Smutketeers Yahoo loop
where we chat with our readers every day. Feel free to join!
All for Smut, and Smut for All!
Labels: bi menage, bi-menage, e-books, erotic romance, Kate Pearce, Kindle, Kiss of the Rose, paranormal romance, Possess Me, R.G. Alexander, Smutketeers, steampunk, vampires
Catching up!
Hi everyone-
I know, I've been a terrible blogger! Actually, I've been pretty good, over on my group blog, the Smutketeers. Come on by and visit! You can almost always find me there.
We have some fun stuff happening at Smutketeers right now. R.G. Alexander's debut novel from Berkley Heat, POSSESS ME, is coming out in just a few days, and we're having guest authors and giveaways to celebrate! Today we have the ever-fabulous Lauren Dane with us, and she's running a contest, so be sure not to miss it!
And check out R.G.'s blog for another contest and some verrry nice pics of the men who inspired some of her characters in POSSESS ME. And BTW-you can pre-order your own copy of POSSESS ME right now on Amazon, so get thee to your local online bookseller!
Next up for me is Book Three in my Celestial Seductions series. SUMMER SOLSTICE will be out August 10th, then Book Two in my Midnight Playground series, BLOODSONG, is out September 28th. You can read a bit about both these books on my website.
Meanwhile, come by Smutketeers to visit me, as well as my fellow authors, R.G. Alexander, Crystal Jordan and Lilli Feisty. :)
Labels: Beth Williamson, contest, Kate Pearce, Lauren Dane, Possess Me, R.G. Alexander
Awesome Smashwords books!
So-the latest news in publishing is Smashwords, and several author friends of mine have books available there now! Take a look:

Jax Cassidy has three tempting reads for you:

First up is DEVIL'S HEART, a hot contemporary romance with a sassy heroine. Actually, Jax always writes sassy heroine's-I love that!



Flynn Donovan's home is on a stage, strumming her guitar in underground bars. Close to her big break, she's summoned to Ireland and faced with a life-altering choice—and a six-foot, dimpled distraction in the form of local pub owner Patrick Keane. Can Flynn give up the real-life fairytale for her lifelong dream? Sometimes the most difficult choices are the ones made while the music plays on.



HOT SHOTS is another erotic contemporary romance, big on the romance!



Calla's morning highlights include drooling over her sexy customer when he picks up coffee from Café Destiny. Things heat up when he serves her an irresistible proposition she can't refuse. Riley owns the photography studio next door and needs help with his latest project. He doesn't expect Calla's steamy poses to light the fiery attraction he's carried for her, with just a click of the button.



UNINHIBITED is a steamy short contemporary romance:



A passionate chance encounter between two strangers at an art show turns into more than they bargained for. Lucian offers Kennedy one night of pleasure with no strings attached, but she soon discovers one night isn't enough to satiate her desires for him.


****

MG Braden's INHERITANCE was just released, a lovely contemporary romance novella:



When Chase Taylor's grandmother passes away she inherits the exclusive home their family calls 'the beach house'. Only there's a catch. She has to live in it for six months with Reece Weston, a man she'd never met until the reading of the will. Is he a scam artist? Or will love turn out to be the best inheritance of all?


****
Kristen Painter's magical fantasy romance novel, HEART OF FIRE is available now! This book was a Romance Writer's of America Golden Heart finalist.



Within a dark elf and a firemage lies the hope of the dying elven race, the renewal of a beleaguered kingdom and an incredible chance at love. If they don't kill each other first. This fantasy romance features fun, mayhem, death, destruction, love, hate and everything in between.


****

Lots of great e-books out there!