Chat on Samhain Cafe & WINTER SOLSTICE Release!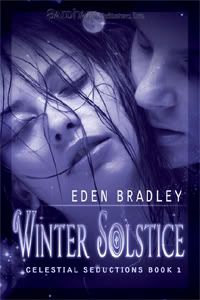 I'll be chatting on the Samhain Cafe loop tomorrow-Thursday, December 17th from 1-3 PST (that's 4-6 EST) with authors & friends Jenna Bayley-Burke, RG Alexander, Lilli Feisty, Kirsten Saell, Natasha Moore, Ember Case, Julia Knight, RF Long, Nell Dixon & others TBA to celebrate the release of my erotic novella, WINTER SOLSTICE! This is the first in my new Celestial Seductions series.

If you're not a member of the Samhain cafe Yahoo loop, you can join any time-there are great author chats and prizes each week!
I'll be giving away an e-book to one lucky winner at tomorrow's chat, so be sure to drop by!
Here's a little peek at WINTER SOLSTICE:

Love with a beautiful stranger isn't so strange—if you believe in destiny.
Celestial Seductions, Book 1
Clinical psychologist Destiny Walker considers herself far too logical for any of that "soul mate" nonsense. Even if her beloved, dearly departed Nana insisted she was going to meet hers someday. When a sudden downpour sends her ducking into a psychic reader's storefront—and the woman confirms everything her grandmother said—doubt begins to sneak into the corners of her mind.
A chance meeting—more like a collision—with Superman look-alike Reece Kellan sets off a sexual chemistry reaction the likes of which she's never felt. She isn't prone to falling into bed with strangers, but he does things to her body that leave her breathless…and unsure where her pleasure ends and his begins.
And that's the part that scares the hell out of her…
*This book has been previously published and has been revised and expanded from its original release.
Warning: Dirty sex with a stranger, a little anal play, more dirty sex, sex on the kitchen table, more dirty sex (because really, can you ever get enough?) and even love at first sight—shocking!
*****
Come by tomorrow's chat for excerpts and more!

Chef Lee Launches 'And He Can Cook'!
My dear friend and food consultant for my food fetish book, FORBIDDEN FRUIT, Chef Lee, has just launched his new website to promote his cooking guide for clueless guys, AND HE CAN COOK!
Chef Lee taught my own boyfriend, whose idea of cooking was sticking a frozen dinner in the microwave, to make eggs-two different ways! Believe me, this was a miracle. He's since gone on to learn how to put together a salad and make French toast. If my guy can learn to cook, anyone can-and Chef Lee is just the guy to do it! And there's a lot more to him than cooking advice-check out his website and see: www.AndHeCanCook.com
Chef Lee's new book, AND HE CAN COOK will be available next week! This is the perfect holiday gift for any guy you know: smart, easy-to-use, funny and sexy cooking and dating tips!
You can keep up with Chef Lee on his blog-he'll discuss cooking, do's and don't's for dating, and he'll be interviewing all sorts of fascinating people, including a bunch of romance and erotica authors, since his wife is the fabulous R.G. Alexander! I'll be interviewed by Chef Lee soon, so be sure to check back!
Books and More Books out today!
RF Long's gorgeous story is out today in PRINT for the first time!


"The Scroll Thief: a Tale of Ithian" by R. F. Long

Love is the wiliest thief of all.

A Tale of Ithian

Malachy and his sister rely on his talents as a thief to survive the dangerous streets of Klathport, former capital of the once-great kingdom of Ithian. Stealing a few papers should have been a simple job. Instead, it nearly costs their lives and throws them into an improbable alliance with a shape-shifting official, a desert tribeswoman, and a healer of enchanting beauty.

Cerys is far more than a simple healer—and the roots of her mission go deeper into the past than anyone can know. She needs Malachy's skills to recover a stolen scroll, one that can be used to rewrite history and, in the wrong hands, release the dark powers of the Demon Realm.

Her mission was supposed to atone for a dreadful, long-ago act. Instead, it unleashes a chain of events which sees them pursued through city and desert by the fearsome Dune Witch and a killer known only as His Lordship. Romance, tragedy, and adventure blend in a tale of a magical land on the brink of war, and five unlikely allies who, by putting their lives—and their hearts—on the line, have the opportunity to finally set things right.

But at a terrible cost.

Warning: Contains scenes of graphic violence and torture, captivating magic and beauty, two dashing heroes, three gutsy heroines, several love stories and a heartbreaking sacrifice.

BUY IT HERE!
Read an excerpt HERE.
****
You can also get Jennifier Leeland's hot, hot, hot femdomme holiday story, THE CHRISTMAS SHE RULES today from Samhain!


"The Christmas She Rules"
Control is her kink…and she's losing it.

It's another gloomy Christmas for Pamela Dane. Not only is it the anniversary of a dark period in her life, but all her friends had the nerve to hook up. It's not easy for a female Domme to find a playmate. Maybe The Cage in San Francisco will be the perfect place to escape—and find a willing man to chase away the memories.

Christian Nolan is at the BDSM club for the hell of it. Yet the minute Mistress Dane takes control of him, she not only stuns him with her talent, he stuns himself with his willingness to surrender. Her offer to meet him there for another night is intriguing—and frightening.

Pamela's session with Chris shakes her to the core, resurrecting memories she's afraid to face. But Chris isn't willing to let her past haunt her…even if it leaves his heart in tatters.

Warning: Hot, strong man on his knees, which will bring you to yours. Strap-on action, anal play, lots of leather and tons of tension. Alpha male who likes to do whatever the right woman tells him to do, including another woman.


BUY IT HERE!
Want a taste? Read an excerpt HERE.
*****
And, as if the previous two aren't enough, this awesome anthology by the ever-fabulous Sela Carsen, Vivi Andrews, MK Mancos and Misty Evans is out today, too!

Isn't it gorgeous!!! The Tickle My Fantasy anthology is out in print today!!

Go ahead. Try to resist the magic. We dare you!

Carolina Wolf by Sela Carsen
Debra knows that the teensy amount of witchcraft in her veins isn't worth getting excited about. Yet someone—or something—thinks it's worth attacking her. Rescuing her seals Maddox's fate, but only if he can protect her from a rogue of his kind. A werewolf with a nasty streak…and a preference for raw meat.

The Ghost Shrink, the Accidental Gigolo and the Poltergeist Accountant by Vivi Andrews
Lucy is doomed. Not to death. To nightly visits from recently deceased Casanovas without the bodies to scratch her itch. Then a living fantasy arrives on her doorstep. Is her dry spell at an end? Not hardly. Jake has been sent to prevent her from getting laid until a particular horny phantom—and key witness in his investigation—pays her a visit.

ParaMatch.com by MK Mancos
Even though she lives without a paranormalady, Lucille has managed to carve a niche for herself with a paranormal matchmaking service. Enter Jager, deposed king of the Titans and successful paratrader. She can match anyone, except him. She doesn't know that he's out to negotiate the deal of a lifetime—a future with her.

Witches Anonymous by Misty Evans
Amy is done with Devil-worshipping. After swearing an oath never to use magic again, she's in the market for a normal guy to complement her new lifestyle. And Adam looks like perfect hero material. Lucifer, however, isn't about to be nice about letting her go…



Warning: This book contains hunky werewolves, smart-A** women and men who think that's sexy, magic, angels, medieval legends, inter-species romance, disco music and flatulent Boxers. (The dogs, not the underwear.)