I'm so excited to announce that my latest

Samhain

book has been released a day early and is available now at MBaM!

Buy it now

! If you need to wait for it to be available on Kindle, it'll be on sale tomorrow at

Amazon

and other online outlets!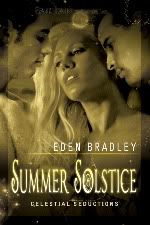 SUMMER SOLSTICE

Book Three in the Celestial Seductions Series
This summer is going to be twice as hot…
The view from Leigh's front porch was never this nice. In fact, her hunky new neighbor is sparking all kinds of naughty ideas about how to beat the heat. Much to her delight, the feeling is mutual—as long as they keep things light. Her divorce left her a little lonely, but far from needy.
Jared doesn't plan to spend much time in his new place before jetting off on his next photojournalism assignment. Leigh's classic, California blonde looks are any man's fantasy. A little flirting, a little playful, neighborly car washing, and it isn't long until their summer fling is in full swing.
Neither can imagine the sex being any hotter—until Jared's sometime roommate and lover, Matteo, comes to town. In the arms of two men, Leigh brings her ultimate fantasy into scorching reality.
Jared revels in the chance to command his two lovers' every move, but when he gets the call for his next overseas gig, he's not so sure he's ready for the fireworks to end. And even as Leigh gives her two lovers the most precious gift—their freedom—she wonders how she'll find the strength to say goodbye.
I hope you all enjoy it! And visit me tomorrow on my group blog,

the Smutketeers

, or on author

Kelly L. Stone

's blog-I'll be running contests on both blogs. I'll also be talking to everyone on the Novel Works

Facebook

page all day. I hope you'll come by and visit!

Eden :)
Labels: bi menage, bi-menage, erotic romance, Kindle, R.G. Alexander, Smutketeers, Summer Solstice