Awesome Smashwords books!
So-the latest news in publishing is Smashwords, and several author friends of mine have books available there now! Take a look:

Jax Cassidy has three tempting reads for you:

First up is DEVIL'S HEART, a hot contemporary romance with a sassy heroine. Actually, Jax always writes sassy heroine's-I love that!



Flynn Donovan's home is on a stage, strumming her guitar in underground bars. Close to her big break, she's summoned to Ireland and faced with a life-altering choice—and a six-foot, dimpled distraction in the form of local pub owner Patrick Keane. Can Flynn give up the real-life fairytale for her lifelong dream? Sometimes the most difficult choices are the ones made while the music plays on.



HOT SHOTS is another erotic contemporary romance, big on the romance!



Calla's morning highlights include drooling over her sexy customer when he picks up coffee from Café Destiny. Things heat up when he serves her an irresistible proposition she can't refuse. Riley owns the photography studio next door and needs help with his latest project. He doesn't expect Calla's steamy poses to light the fiery attraction he's carried for her, with just a click of the button.



UNINHIBITED is a steamy short contemporary romance:



A passionate chance encounter between two strangers at an art show turns into more than they bargained for. Lucian offers Kennedy one night of pleasure with no strings attached, but she soon discovers one night isn't enough to satiate her desires for him.


****

MG Braden's INHERITANCE was just released, a lovely contemporary romance novella:



When Chase Taylor's grandmother passes away she inherits the exclusive home their family calls 'the beach house'. Only there's a catch. She has to live in it for six months with Reece Weston, a man she'd never met until the reading of the will. Is he a scam artist? Or will love turn out to be the best inheritance of all?


****
Kristen Painter's magical fantasy romance novel, HEART OF FIRE is available now! This book was a Romance Writer's of America Golden Heart finalist.



Within a dark elf and a firemage lies the hope of the dying elven race, the renewal of a beleaguered kingdom and an incredible chance at love. If they don't kill each other first. This fantasy romance features fun, mayhem, death, destruction, love, hate and everything in between.


****

Lots of great e-books out there!

Wasteland series news and other stuff!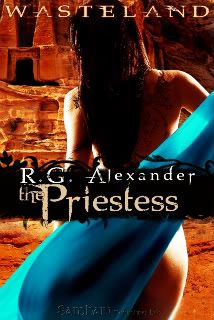 So much exciting news! R.G. Alexander's THE PRIESTESS, is out today! This is the final book in our Wasteland continuity series from the Smutketeers: myself, Crystal Jordan, Lilli Feisty and R.G. Alexander. This story really wraps up all of the others, so it's a must-read in the series! Buy it now!

My book in the Wasteland series, THE BREEDER, is available now from Samhain! And the cover is up for best cover in the Clash of the Covers contest at the Embrace the Shadows blog-please drop by and vote for my cover! Buy THE BREEDER, Crystal Jordan's THE WANDERER, and Lilli Feisty's THE WHORE, at Samhain now! And drop by our Smutketeers blog for R.G.'s release week festivities, contests and more!
Have you seen the downloadable tapestry wallpaper of all our covers?



Have you seen our Wasteland video? Take a look!


Labels: bi menage, book release, contest, Crystal Jordan, Lilli Feisty, R.G. Alexander, The Breeder, The Priestess, The Wanderer, The Whore, Wasteland
Wasteland: THE BREEDER is out now!!!
My story in the Smutketeers' Wasteland anthology, Book Three: THE BREEDER, was supposed to release tomorrow, but it's out now! Buy it now at MBAM or on Amazon! To celebrate, I'm posting an excerpt and having a contest on the Smutketeers blog, because Yay! for free stuff! Here we go...



In 2012, the world came to a grinding halt as radiation hit from a massive solar storm. Crops died, animals perished, cities fell and humans became little more than beasts themselves. Under the threat of starvation, civility was reduced to mere memory. Only the strongest men survived, and physically weaker women and children wasted to nothingness.

More than a century later, humanity struggles in the desert Wasteland that was left. The solar radiation rendered most women infertile, and the population dwindles more with each year that passes. Scattered up and down coasts, isolated cities eke out an existence from fishing, foraging and hunting for what little game remains. Outside the city walls, men face the threat of pirates and raiders.

Few women remain, divided into four classes—Wanderers, Whores, Breeders and Priestesses. They are as reviled as they are worshiped, a commodity any man must pay to touch.

There is only one rule in the Wasteland—survive.

Book One: THE WANDERER — Crystal Jordan, May 4, 2010
Book Two: THE WHORE — Lilli Feisty, May 11, 2010
Book Three: THE BREEDER — Eden Bradley, May 18, 2010
Book Four: THE PRIESTESS — R.G. Alexander, May 25, 2010

THE BREEDER, Book Three in the Wasteland Series

Destined to serve the desires of an entire city, all she wants is one man. Or maybe two…


Wasteland, Book 3

Born to the Temple, Nitara knows the Great Goddess's plan for her: to bring life into what is left of an arid and wasted Earth. Since puberty she has been trained to arouse and titillate, to ensure the continuation of the human race.
As is the custom, the man captured for her is strong of blood, though considered little more than a wild animal. Yet when she looks into his eyes, she sees no primitive creature, but the man whose face and hands haunt her sensual dreams.
For Akaash, a hunter and warrior, it's his shame that he will be sacrificed to a goddess he doesn't believe in, for a people who are not his own, leaving behind his Wanderer clan—and his bonded lover, Dhatri. Locked in the bowels of the Temple, he has a month to ponder his fate, all while falling helplessly under the spell of the virgin temptress who will soon take his life.
With each tortuously erotic encounter, however, Akaash realizes that Nitara is as much a prisoner as he. If he can just get a message out to Dhatri, there may be a slim chance both of them can escape…



Warning: Sexual acts in a prison cell, by the sea, in the desert, on an altar, with every possible combination of dirty deeds between two men and one very lucky woman, and all of it hot enough to melt sand! And her panties. If she were wearing any.


* * *
!!!!!!!WARNING! X-Rated Excerpt Ahead!!!!!!!

"Do something for me now, Nitara."
"I will do whatever you ask."
"Give me your pleasure."
She smiled, light filling her heart. He wanted from her the one thing she was able to give.
She stripped her robe off and stood close to the iron bars. His gaze was hungry as she stroked her palms over her belly, her thighs, her breasts.
"Yes, draw out your nipples as I would with my tongue, could I reach you. Ah, beautiful. I've never seen anyone so beautiful, Nitara."
She shivered, holding the hardening flesh of her nipples between her fingers, stroking, pulling on them. Pleasure suffused her. Her clitoris grew hard, needy. The anticipation of awaiting his instruction was strange and thrilling.
"Tell me what you want, Akaash."
"Part your thighs for me so that I can see your lovely cunt. So pink…I can see how wet you are. I need to taste you again, Nitara."
She slipped her fingers into her slick juices. She was shaking with need as she held a trembling hand between the bars that separated them, held her damp fingers to his lips, as she had done before. He leaned forward, took her fingers between his lush lips, and sucked.
"Ah, Akaash…"
Pleasure was like the sun, burning into her skin, arcing through her body.
He let her fingers go, but she couldn't pull away. Instead, she explored the contours of his face, tracing over his mouth, his beard-stubbled chin, finding a long scar on his cheek. It only made him more beautiful, somehow, that he had survived hardship.
He turned his face and kissed her fingers as he had done before, lingering kisses, his lips soft on her skin. She turned her hand over, and he pressed his mouth to her palm. Her heart fluttered in her chest.
She felt stunned by his touch. Immobilized.
"Nitara," he whispered, his breath warm on her palm. "Come for me."
* * *
And now for my Dark or Dirty contest!
This week I'll give away two prizes, but you have to tell me if you're Dark or Dirty. If you're Dark, you could win a copy of my vampire story, THE SEEKING KISS, Book One in my Midnight Playground Series (Book Two, BLOODSONG, is coming soon!). If you're Dirty, you could win a copy of my BDSM novella, BREAKING SKYE. You can read about both books on my website. Just post on the Smutketeers blog this week. I'll choose and announce the winners next Sunday night (May 23rd).
Speaking of my website, I just it redesigned to match the site for my new persona, Eve Berlin! My first Eve book, PLEASURE'S EDGE, a BDSM novel for Berkley Heat, will be out in October! Eve will be here to blog about it in the fall, so stay tuned. Meanwhile, take a peek at my new website!
You can browse all of my books, see what's coming up next, and hop over to my Eve Berlin site to see what's new with my evil twin.
Be sure to check back on Smutketeers for the contest winners, and for the release of the last book in the series, R.G.'s THE PRIESTESS, next week! You can find the entire Wasteland series at Samhain, and you can buy THE BREEDER there, or on Amazon!
And watch the Wateland video on YouTube!


Labels: bi menage, bi-menage, book release, contest, Crystal Jordan, Eden Bradley, Lilli Feisty, R.G. Alexander, The Breeder, three-way
Wasteland: Book Two- THE WHORE is out now!
The Smutketeers continues with our Wasteland continuity series with the release of Lilli Feisty's THE WHORE, Book Two in our series, out from Samhain Publishing today! She's running a contest over on the Smutketeers blog, so be sure to pop over there and check it out!

Wasteland: The Whore by Lilli Feisty

Her quest for freedom plunges her into

dangerous waters

…of desire.

A Wasteland story.

Bryn is a "Rose", but her life is no garden. A stolen child, prostitution is the only life she's ever known—except on the nights she sneaks out in stolen men's clothing to explore the city. A tiny taste of freedom that makes her long for a life outside sexual servitude, at the mercy of any man who can pay.

Xander remembers no other home except his pirate ship, smuggling weapons or anything else for a fee. He's been happy with his life and his lover, Hawke…until he rescues who he thinks is a young man from robbers.

Figuring she can blend in with the crew, Bryn jumps at the chance to escape the Brothel. Then she discovers Xander and Hawke have a taste for pretty boys—and that she has a taste for them. In their arms, she embraces their incredible gift: control of her own sexuality.

Though women are considered bad luck at sea, Xander isn't of a mind to give her up. Yet the time is drawing near when the ship must return to Wasteland to resupply. And what awaits them there is a danger that could tear them apart.

Warning: Contains hot pirates, bad boys, pretty boys, lots of three-way pirate sex, a woman spanking a pirate with a rare-wood paddle, a glass dildo used on a pirate—have we mentioned the pirates?

Buy it here!


Book Two, Crystal Jordan's THE WANDERER, is still available, my story, Book Three, THE BREEDER, and R.G. Alexander's story, Book Four, THE PRIESTESS, will be out in the coming weeks, so be sure to read the whole series!

Meanwhile, just a reminder that my second Spice briefs, NIGHT MOVES, my hot erotic train story, is available now at eHarlequin.com .
Labels: bi menage, book giveaway, contest, erotic romance, Lilli Feisty, menage, pirates, Wasteland
NIGHT MOVES is out now!
While I was away at the Romantic Times Convention my latest Spice Briefs, NIGHT MOVES, was released! Buy it now at eHarlequin.com!
You can also find Portia Da Costa's new Briefs story, A GENTLEWOMAN'S PREDICAMENT-we're release sisters this week. :)
See more about the RT Convention, my upcoming May release, THE BREEDER, Book Three in the Wasteland continuity series with authors RG Alexander, Lilli Feisty and Crystal Jordan, on the Smutketeers blog!
Labels: book release, erotic romance, Night Moves, Portia Da Costa, Romantic Times 2010, Smutketeers, Spice Briefs