Who Needs Another Superhero?
Happy release day to R.G. Alexander with the return of her hot superhero series in WHO NEEDS ANOTHER SURPERHERO? from Ellora's Cave! This is a hot and entertaining read, a perfect read for a sizzling summer day...



Return to Gaia City...




Where there are way too many superheroes for Dayna's peace of mind. Growing up as the unofficial mascot for Gaia's Guardians hasn't been easy. So maybe she overcompensates. Takes risks she shouldn't.





Stone Matthews was an introvert until the day he wandered into the burial chamber of an ancient and powerful ruler and became…Rock Hammer.





Now he's an invincible chick magnet, but he still has no idea how to deal with women. Especially Dayna. The tasty reporter has always pushed his buttons and turned him on, but she's unattainable.



With Triad still missing, Theta Wave on his honeymoon and the lair in disarray, there is no one around but Stone to save the day when Dayna goes chasing after The Pearl of Isis and a story that could be the death of her. And when he gets his hands on her, all bets are off.

You can find WHO NEEDS ANOTHER SUPERHERO at Ellora's Cave, along with her other EC releases, WHO WANTS TO DATE A SUPERHERO, and LIFTING THE VEIL now!

R.G. Alexander has a lyrical, sensual tone, which I love, and which is absent all too often in erotic fiction. If you haven't read her books, you must put her on your list! She also writes for Samhain, where you can find her titles REGINA IN THE SUN and her upcoming August release, LUX IN SHADOW! An incredibly talented up and coming author-and anyone who knows me

knows

how picky I am-lol!

Surrender!

I think 'surrender' is such a lovely word, don't you? The tones are lyrical, and the meaning is deep, complicated, sexy...especially if you love the idea of power play. If you do, I have just the book for you!
My novella, BREAKING SKYE, is part of a new print anthology from Phaze. SURRENDER is a compilation of stories about different levels of power play, from D/s to hard-core BDSM, with stories from me, Eliza Gayle, Reese Gabriel, and a special addition by Phaze author and editor, Alessia Brio. These stories are hot, hot, hot, so have some cold water nearby. Or even better, your favorite playmate.
Here's the blurb:
Three Phaze Bestselling BDSM stories, plus a bonus award-winning short!
Breaking Skye by Eden Bradley: Skye Ballard has always wanted to experience her fantasies of sexual submission. She craves to be commanded, taken over. She is convinced that all it will take to purge this yearning from her system is one night. Skye searches out the perfect Dominant for the job-it must be a man who is powerful, attractive, and naturally dominant. But when she meets Adam Dunne, she finds a man beyond her wildest dreams. Adam convinces her one night will not be enough for what he sees as a process, rather than a single experience. Skye soon discovers that being with him only makes her crave more. And while he begins with the idea of training her to be the perfect submissive-for someone else-soon all he can think of is making her his, making her yield. All he can think of is breaking Skye-and keeping her for himself.
Submissive Secrets by Eliza Gayle: After eight years of searching for him, Carli's ex-fiancee, Aidan, shows up naked in her bed. Finally she has her chance to show him she regrets leaving him on the eve of their wedding and get him back. But will she have the nerve to tell him the truth about herself and why she ran? Will her childhood sweetheart understand and accept her true needs as a sexual submissive? Forced to return to Carli on a mission, Aidan just wants to get the Intel he needs from her and get the hell out of town. Maybe with this reunion he can rid himself of her once and for all. Until a thorough search of her home unearths some secrets that shock him to the core. Was there more to her abandonment than he thought? With this new information, a plan formulates and he is determined to learn how far she will go when she loses her prized control.
Cupid's Captive by Reese Gabriel: John Cupid has no use for love. Domination is his thing, carefree flings with willing submissive females who crawl in and out of his bed like clockwork. When he is roped into taking his law partner's little sister Steffy out for Valentine's Day, he couldn't be more annoyed. He expects a night of baby sitting, but Steffy is all grown up now and she knows what she wants--a chance to be tied down and ravished in the bed of the man she used to call Uncle John. John tries to resist, but the little beauty proves to be the perfect slave for him. Could it be he is about to be hit by one of his name sake's infamous arrows?
Buy it now at www.Phaze.com ! And don't miss the other fabulous reads available at Phaze!
Got the cover copy!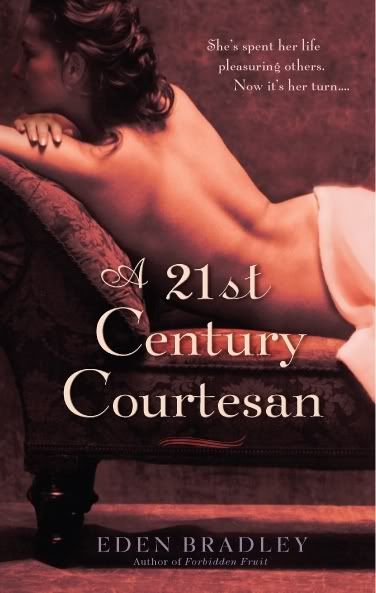 Here it is...

She's spent her life pleasuring others.
Now it's her turn…
She lives in a world of silk sheets, imported champagne,
and endless erotic delight…
She fulfills the deepest fantasies of the most powerful men in the world. Sensual, seductive, and discreet, Valentine Day is a high class call girl, pampered and adored by her exclusive clientele. But Valentine has a secret. Always in control, she's never experienced true pleasure outside of her work. But all that is about to change…Now, the woman who's spent a decade pleasuring others is about to embark on an erotic journey of her own…
It happens one night at the opera. Seated next to her in the dark is a stranger. As the music swells, so does the sexual tension. Gorgeous, sophisticated Joshua Spencer invites her for a drink, and soon she's fantasizing about taking him home. When they finally come together in a night of the wildest lovemaking Valentine has ever known, she's hooked. But suddenly Valentine is questioning everything. Joshua has no idea what she does for a living. Can she risk everything—including her hard-earned freedom and one final, shattering secret—for one man? And would he still want her if he knew the truth?
A 21st Century Courtesan Revealed!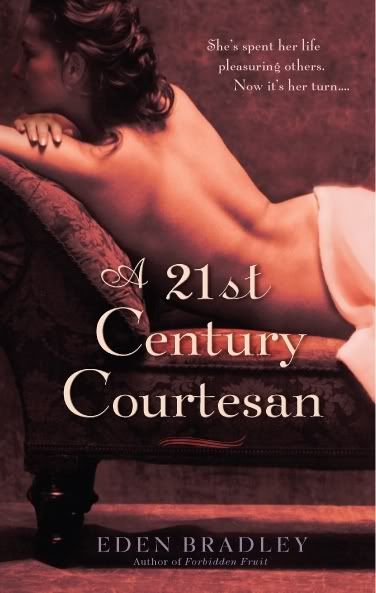 I just finished writing this book, and I think it's my best work yet. I spoke with my editor today, and she thinks so, too, which is a huge compliment coming from her, so I'm thrilled! I also got a release date: April 2009, and my first look at the cover! The Bantam art department rocks! I don't even have official cover copy on it yet-I'll post a blurb as soon as I have it! But I can tell you this: A 21ST CENTURY COURTESAN is the story of Valentine Day, who's worked as a high class call girl for nearly ten years when she meets a man who turns her world upside down. This story is written in first person, and it's a very different kind of book. I can't wait to see if readers will be as in love with this story as my editor and I are!
Valentine is very dark and troubled. I love complicated characters! Only once have I ever written a character that was all sweetness and light (April in THE DARK GARDEN) and she was the secondary heroine. If you're a writer, what are your favorite kind of characters to write? If you're a reader, what sort of characters do you like to read? And is it different depending on whether it's the hero or heroine?
Interview at Wild On Books!
Jennifer at Wild On Books interviewed me recently and the interview was just posted!
I had a great time with this interview-she asks insightful, revealing questions. I actually love to do interviews-it makes me think about myself, about my writing process, in ways I tend not to do on a daily basis. I know some authors dread them, but I guess I enjoy a little self-exploration.
If you're an author, what about you? Love or hate interviews?
Don't forget-my recently released Bantam anthology with authors Sydney Croft and Stephanie Tyler, HOT NIGHTS, DARK DESIRES, is available now! Check it out!
A 21st Century Courtesan is finished!
I've been working on this book since January, and had some major interruptions in between -my own month-long 102 fever, and then my father had open-heart surgery and required a lot of care. But the book is done! I sent it to my editor late last night, with sweating palms and pounding heart. It never gets any easier, and there is a lot at stake with this book. It's very different, and although I did get my editor's permission to write these different aspects into the story, I'm praying she's satisfied with the execution.
A 21st CENTURY COURTESAN is the story of Valentine Day, a modern day call girl who serves the wealthy elite of the world. There is a secret to her success, one which keeps her bound to this business long after the allure of the money has faded. But when she meets Joshua Spencer, her world comes crashing down around her, and she can no longer continue the life she's led for nearly ten years.
This is a deeply psychological book, exploring why Valentine has become who she is, and what she must do in order to truly leave that life behind and create a new one. The story is gritty, emotional, intense, and it was an emotional roller coaster for me while writing it. I feel that it's some of my best work to date-now I'm waiting with fingers crossed to see if my editor feels the same way!
As writers, we aren't always still in love with a book by the time we're done with it. Sometimes we even hate it-lol! But I love this book-if my editor doesn't, I admit I'll be a bit crushed. Wish me luck!
Meanwhile-how many of you love your books while you're working on them? One of my writer friends always falls in love with her ideas, but then sort of hates the book while she's writing it, every time! Torture! I always love mine (except for one!), and begin to hate it around the time I have to proof galleys, which means reading through it for the bazillionth time.
Today I'm taking a break before launching into my next project-my first male/male erotic story, a short novella I'm hoping to sell. I'm giving myself three weeks to complete it, and then I start my next novel for Bantam, a book about Shibari, the art of Japanese rope bondage. More about that later!

Labels: courtesan, finishing a book, Japanese rope bondage, Shibari
Taken, baby!

Lillian Feisty's Spice Briefs just came out, and it's one hot story! If you can't tell by the cover, just read the blurb below...
They say what happens in Vegas stays in Vegas. But for Chloe, life in "Sin City" has been all business without a hint of the adventure and naughtiness aluded to in that slogan. Until now! With Walker and Jo in town, Chloe's about to end her long dry spell and live her ultimate fantasy–a menage a trois with the two sexiest men she knows. As the three of them plunge into wild sexual exploration with passion and inventiveness, Chloe soon discovers what new heights of sensuality can be experienced when so many hands, lips and organs work together to drive her beyond the limits of ecstasy.

You can buy TAKEN on eHarlequin now! And while you're there, you can pick up my Spice Briefs story, SOUL STRANGERS, too. The more the merrier!
Spice Briefs is putting out some smokin' hot stories by some of the top erotic authors. With three new releases each month in all the erotic sub-genres, there's something for everyone!

Labels: Briefs, ebook, erotica, Lillian Feisty, menage, short stories, Sin City, Soul Strangers, Spice, Taken, Vegas
The Winner of LORD SIN!!!!
The winner of Kalen Hughes' LORD SIN is

jennybrat

! Please email me at: eden_bradley@yahoo.com and I'll put you in touch with Kalen to collect your prize!
I'm still madly working away on my latest book, currently titled A 21st Century Courtesan-I think I'm going to finish it tonight! I hate writing the ending of a book-I get close to a deadline and feel like I have to just crank this stuff out, no matter how I'm feeling. Some days, I kinda feel like this...
Anyone else? Or am I just on the pity pot?

Surrender!
So, one of my e-books with Phaze, BREAKING SKYE, is going to be included in the BDSM print anthology, SURRENDER, along with authors Eliza Gayle, Alessia Brio and Reece Gabriel! We just got our release date-June 23rd-and they've done a really gorgeous cover for us! I'm waiting until release day to unveil it, so you'll have to check back!
Meanwhile, I'm almost done with my 21st Century Courtesan book-I'm on the final chapter. This book has gone so smoothly, it's been a little scary (or maybe I'm being paranoid?), but of course, now that I'm at the end I'm having one block after another. Endings are always hard for me. You have to tie everything up, make everything come full circle, and I'm always afraid it's going to be cheesy, which I hate-lol! I love romance, but I cannot write the cheese! My friend Dana Belfry always says "But I love the cheese", so I may have to dedicate any cheese in this book to her. *G*
Speaking of Dana, she and I met a few writer friends, Shante' Lanay and my cp of 6 1/2 years, the fabulous Gemma Halliday, at Venice Beach on Saturday. I love Venice Beach-all those $6.00 sunglasses, the incense, the cheap silver jewelry, the people-watching-and OMG, the full on freak show was out in force! And they now have an actual Freak Show on the boardwalk. In front of the place was a guy holding a two-headed snake, aptly named Laverne & Shirley, which I think is hysterical. I got to pet her, which completely freaked out Gemma and Shante'. Luckily, Dana didn't mid hanging out and taking a picture of my weird little friend.
That's it for my adventures until I get this book done and turned in. I'll be chained to my computer for the next 10 days. Wish me luck! Donations of chocolate are welcome and can be left quietly on the front porch.