Appearances!
You can find me at two local Southern California events next week:

The first is an In The Flesh reading on Thursday, September 25th. I'll be signing books and reading an excerpt from my October release, FORBIDDEN FRUIT, along with four other authors, including friend and erotic storyteller extraordinaire, Donna George Storey!

Hustler Hollywood
8920 Sunset Boulevard
West Hollywood, CA 90069

8:00-10:00 PM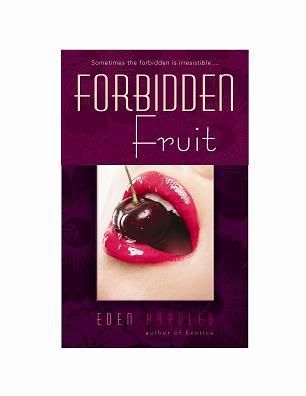 On Sunday, September 28th, I'll be appearing at the West Hollywood Book Fair to sign books and chat with everyone who stops by our booth at the California Erotica Authors booth, along with authors Will Belegon, Christine London, Ericka Scott and Donna George Storey!

West Hollywood Park
647 North San Vicente Blvd.
West Hollywood, CA

9:00AM-6:00PM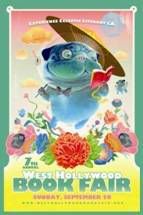 West Hollywood Book Fair is a spectacular event, with authors in every genre. You can find more information on their website. I hope you'll all come and see me!
If you like hot menage...
...you're going to love this! Evil Faeries, a scorned goddess and kinky Viking twins-what more could you possibly want? How about a sex swing and a mission to save the world?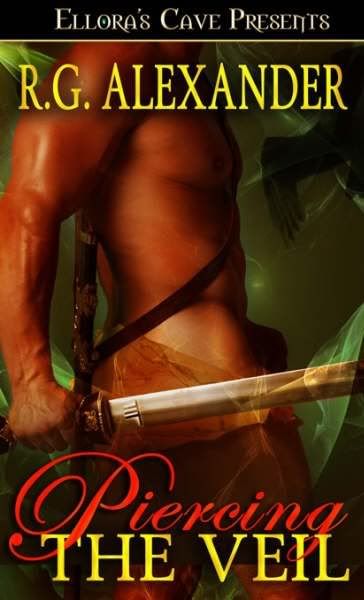 R.G. Alexander's PIERCING THE VEIL is out today from Ellora's Cave!


Twins Hawk and Val are Fianna warriors under the vengeful curse of a scorned goddess. Following the prophecy in the Book of Veils, they search for the one who can help them retrieve the Claiomh Solais before their enemies get the chance. Their quest leads them to Linnea. One touch and there can be no doubt that they have found their match. But will she accept them once she knows the truth?

Linnea is no one special. So why is she on the run from evil faeries and her egotistical ex? Why is she suddenly spending time in the company of dragons, druids, and one kinky Viking with a split personality? All she knows is she has to keep her daughter safe from those who hunt her, and her heart safe from another betrayal.

To protect one gifted child and all of humanity from the dark god that seeks retribution, they must learn to trust each other. To have a future together, they must find the perfect balance.

PIERCING THE VEIL, the sexy sequel to LIFTING THE VEIL, book two in the Temptation Unveiled, is on sale now!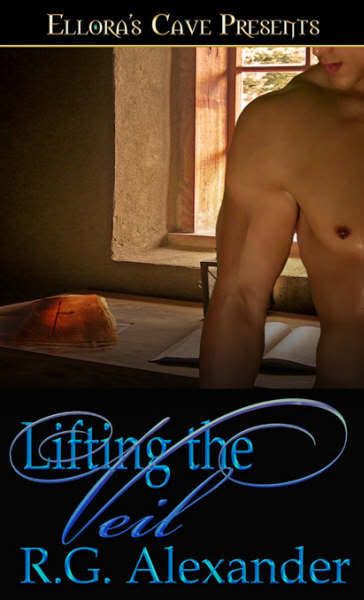 R.G. Alexander writes lyrical, sensual, fun stories set in dream worlds where every woman's fantasies are reality. Lose yourself in one of her books... www.RGAlexander.com

I'm in Cosmo!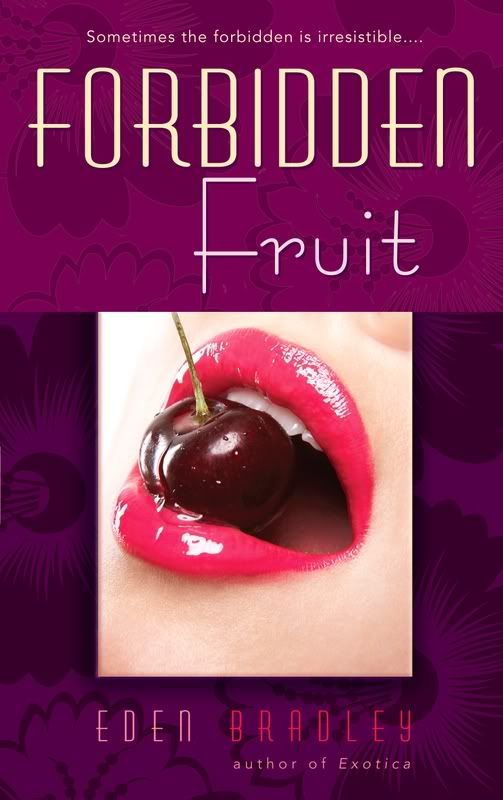 My upcoming October release, FORBIDDEN FRUIT, is being profiled in the latest edition of Cosmopolitan magazine! Each month they write up an interpretive 'excerpt' of a book in their Red Hot Reads section, and this month it's my book! This is excellent exposure, so I'm thrilled! Page 271 of the October issue if you get a chance to check it out-it's on the shelves now!
FORBIDDEN FRUIT will be available from Bantam Delta on October 28th, and is available now for pre-order on Amazon.com , Barnes & Noble online, and Borders online!


Sometimes the forbidden…
is irresistible…
One taste is never enough.
For university professor Mia Rose Curry, it was all academic: her course in alternate sexuality was a safe, socially-acceptable way for her to talk about the things she desires most—but has never let herself experience. And while students crammed into her class to learn about fetishes, bondage, voyeurism and much more, Mia kept her own raging desires, and her most private fantasies, carefully under wraps…until one student undressed her with his eyes...
Jagger James is everything Mia wants and everything taboo, yet Mia can't help imagining drawing closer and closer to this forbidden fruit. She soon discovers how much Jagger wants her, demanding she abandon every inhibition with him. Now, they are about to take a dangerous step, tempting each other's flesh, savoring every touch and breaking every rule in the book—knowing that this dazzling, sensual feast is only a taste of something more to come…
Indulgence
September is my birthday month, so I'm, going to spend the entire month being self-indulgent. Or at least, thinking about it. One of my favorite indulgences, as many of you know, are shoes. I am a total shoe whore. I believe you can never have too many pair because no matter the piles of shoe boxes stacked in my bedroom closet, guest room closet, and office closet, there is, inevitably, that one outfit for which I don't have the right pair. The only cure is to keep buying them, in the hopes of eventually catching up. That's one of my rationalizations, anyway.
And since this is my birthday month and I'm not terribly happy about the number approaching (can I really be this close to 50?? Impossible!), I'm going to post about my favorite indulgence, and dream a little about the shoes I'm yearning to have, to hold in my hands, to admire, to have on my feet.
I love stilettos, but I'm also looking at flats right now-great for running around in the winter when it's too cool for flip-flops (which is what I usually wear, since I live in LA). I found some cute ones!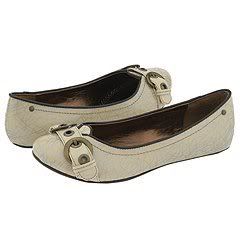 These are adorable, look comfortable, and I love that the name of the manufacturer is Naughty Monkey. :)

These are Michael Kors-leopard never goes out of style-used sparingly, of course.

The Selena shoe from L.A.M.B. by Gwen Stefani-love, love, love these! Such fierce shoes. Shoes like this make me feel powerful. And tall.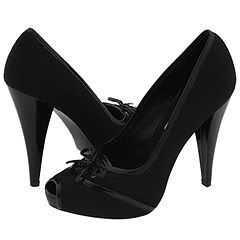 I adore these-bad secretary shoes...*G* They're Steve Madden-I have a number of his shoes. He makes my favorite silhouette.
These have a great vintage feel. My friend Lilli Feisty has turned me onto T-straps. Also made by Naughty Monkey, and so cute. They even look like they'd be comfortable-not a priority for me when it comes to shoes, obviously, but a nice bonus.

Another pair of Steve Maddens and I'm crazy about these shoes! I always like hardware on a shoe.
The Michael Kors Lolita shoe, and I really, really want them! I love the look of a stiletto-heeled spectator pump, and there are enough unusual design elements in this pair to make them truly special. *sigh*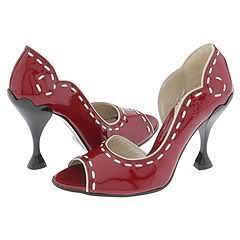 I've been on the search for several years for the prefect pair of red shoes. These are by John Fluevog, the Hepburn shoe. They're just a little wacky, which I love.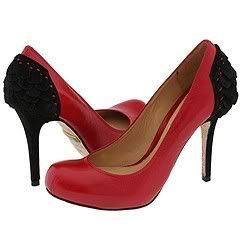 Another pair from L.A.M.B. Hot red shoes, but not quite the

perfect

pair...
These are from Chinese Laundry. Again, great hardware. But still not perfect, so the search is on. That's as good an excuse as any...

So, tell me-what's your favorite indulgence? Chocolate? A long, hot bath? An hour to browse through the bookstore?