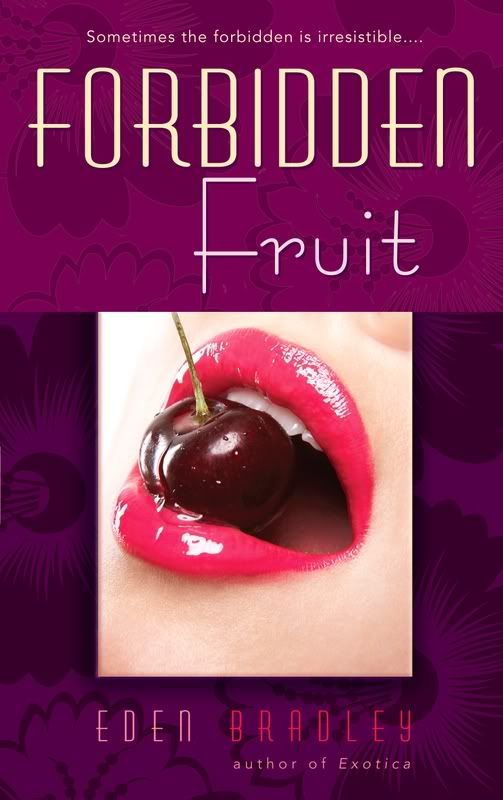 My upcoming October release, FORBIDDEN FRUIT, is being profiled in the latest edition of Cosmopolitan magazine! Each month they write up an interpretive 'excerpt' of a book in their Red Hot Reads section, and this month it's my book! This is excellent exposure, so I'm thrilled! Page 271 of the October issue if you get a chance to check it out-it's on the shelves now!
FORBIDDEN FRUIT will be available from Bantam Delta on October 28th, and is available now for pre-order on Amazon.com , Barnes & Noble online, and Borders online!


Sometimes the forbidden…
is irresistible…
One taste is never enough.
For university professor Mia Rose Curry, it was all academic: her course in alternate sexuality was a safe, socially-acceptable way for her to talk about the things she desires most—but has never let herself experience. And while students crammed into her class to learn about fetishes, bondage, voyeurism and much more, Mia kept her own raging desires, and her most private fantasies, carefully under wraps…until one student undressed her with his eyes...
Jagger James is everything Mia wants and everything taboo, yet Mia can't help imagining drawing closer and closer to this forbidden fruit. She soon discovers how much Jagger wants her, demanding she abandon every inhibition with him. Now, they are about to take a dangerous step, tempting each other's flesh, savoring every touch and breaking every rule in the book—knowing that this dazzling, sensual feast is only a taste of something more to come…