Staggering to the Finish Line!
Tonight I finished polishing Love & Discipline! It's ready to go to my editor at Bantam, along with The Bonds of Love and The Lair, but I want to give The Lair one more look first. I still need to come up with an overall title for the anthology, but at least the writing is done (until I get revisions. *sigh*).
My next projects are my sensuality workshop, happening at the Seattle RWA group in November, and my next novella, Sanctuary, due at Berkley November 1st. I wrote Love & Discipline in just over three weeks, so six for Sanctuary is very do-able. Truthfully, I've been dying to get to this story, which is based on some real life people and places I know-and that's all I'm gonna say! Except that I am totally in love with my hero in Sanctuary. His name is Shaye, and he's all bad boy, but smart, too, and artistic, as most of my heroes are. This story is going to be wild! Two different BDSM dungeons, one very raw and urban, one incredibly sophisticated and elegant. My heroine is in for one hell of a ride!
So, this week I'm pimping my friend and fellow erotica author Lacy Danes. She writes gorgeous historical erotic romance with a touch of kink. Her three-in-one anthology, What She Craves, is due out soon! Take a look at this HOT cover! http://www.lacydanes.com/
Don't forget to check my website for updates and sneak peeks at my books, plus a new section called 'For The Voyeur', which has short stories you won't find anywhere else, written specifically for my website. My current title is Soul Strangers, a sensual morsel of a tale.
http://www.edenbradleyerotica.com/
This and that...
I haven't blogged for a while because A) I wanted the news about Crystal Jordan's Full Swing to stay up for a while, and B) nothing very exciting has happend around here lately, so why blather on to my blog readers when you can be bored to death without coming here to read my blog?
So, blathering anyway...
I've just been working away on Love & Discipline, the last of the three novellas for my Bantam anthology, due September 1st-and yes, I'm very much aware that my deadline is in ten days and I am not done yet! But it's moving along pretty well. This story is a lot darker than I intended for it to be, but I go where my characters lead me. Damien and Maggie have decided that they are both emotionally damaged people with issues and secrets, so that's the way it's going. I wasn't sure if I'd be able to effectively write Damien-he's a bit older than the male characters I usually write, very sophisticated, wealthy, but I'm really falling in love with him and am finally getting into his head. Under all that smooth, elegant exterior he's human, just as we all are. I love discovering my characters this way. I have about 9,000 words to go. I should be able to do that in a week, then will have a little time to edit and polish. My cp's already have the first 70 pages, so they are working on it, too, thank goodness! I can't send anything out the door until they've both looked at it!
Let me just plug critique partners in general for a moment here. My cp's have been invaluable to me. I know some writers who are too independant to allow anyone else to have that much input on their work, but I just think none of us can be that objective about our own writing. My cp's catch typos, passive phrasing, inconsistencies, things I can't see because I'm too close to the story. I was lucky-my first cp, Gemma Halliday, and I were a great match from the start, and we're still together over five years later. We write different genres now (she writes chick lit), but it doesn't matter. She knows my voice like no one else. My second cp, Jennifer Colgan, I've been working with for about a year. I love her writing and admire her so much. One important aspect about both my cp's is that we have similar critiquing styles and they are all respectful of my writing voice, as I am of theirs. Sometimes it takes a few tries to find the cp who works for you, but it's well worth the search!
Gemma Halliday's first book, Spying in High Heels, came out earlier this month and I'm so excited for her! This book is hilarious! I can't until her next book comes out. I can't say anything about it except that I think it's even funnier than the first-and I mean laugh out loud, practically wetting my pants funny! I know I've given her website out before, but seriously, you must go take a look:http://www.gemmahalliday.com/
While you're there, check out her book trailer!
Jennifer Colgan has so many books available right now, you'll just have to go to her website to browse: www.jennifercolgan.com
Can I play favorites? Her newest release, The Soul Jar, is awesome! A deeply emotional story and the writing is stellar! Available now at New Concepts Publishing.
Okay, okay, I'm getting back to work!
Eden
News, news and more news!
My friend and fellow author, Crystal Jordan, has a fabulous book coming out from Cobblestone Press! Full Swing will be available August 18th!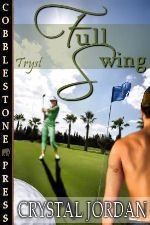 The only place they still communicate is between the sheets...a professional woman golfer and an Army Ranger struggle to save their marriage after he's seriously injured in combat and has to retire. Outside the bedroom, everything is falling apart because he believes she deserves better than a broken man, but she dreams of a future when they stop fighting and start talking long enough to reclaim the happily ever after that once seemed so certain.
ABOUT CRYSTAL JORDAN: Crystal Jordan only began writing about a year ago after she finished graduate school and needed something to fill the hours that used to be eaten away by homework. What started as a hobby has quickly become a new career. She now writes paranormal, futuristic, contemporary, and erotic romance. Additionally, she is a member of RWA and its erotic romance chapter, Passionate Ink. She also belongs to the award winning author's resource website and forum RomanceDivas.com, where she serves as a moderator and Paranormal Co-Liaison.
http://www.crystaljordan.comAVAILABLE AUGUST 18!http://www.cobblestone-press.com

Another writer friend, Emma Petersen, is selling books like mad! She's a hot new author on the erotic romance scene! Check out her smokin' hot blog for news, updates: http://emmapetersen.blogspot.com/

In my own writing news, I finally finished writing The Lair, the second book in my three-novella anthology for Bantam (due out end of 2007 or early 2008). I'm now four chapters into Love & Discipline, the last novella for my anthology. This story is really rolling, which is wondeful, considering it's due September 1st! This one takes place in San Francisco, my old home town, and I'm enjoying visualizing the different pockets of the city-North Beach, where you can get the best Italian food in the world, the gorgeous Marina district with its view of the San Francisco Bay and the Golden Gate Bridge. My goal is to write 50-65 pages a week to get this baby finished, edited and polished in time. Basically, that means no life for me until it's done, but that's just what I need to do to get my career off the ground, so while I may be whining about my deadlines, I'm really not complaining.
Check back with me-I'm going to post blurbs about my books eventually-I swear!
Eden
Pics from RWA 2006!
My critique partner and friend of five years, chick lit author Gemma Halliday. Her book, Spying in High Heels, was just released-smart, snappy and hysterically funny! Romantic Times gave it 4 stars! You can buy it now at most book stores or at Amazon.com
Or you can take a look at her awesome website: www.GemmaHalliday.com


This is me with one of my best friends, Jax Crane, romance author and co-founder of Romance Divas-the best place on the internet for writers of romance and women's fiction. I'm one of the administrators there-you'll find me there as Diva Lisa. Check us out! www.RomanceDivas.com


Me again with powerhouse erotica author Sunny. A wonderful writer and incredibly prolific. She also introduced me to my agent-thank you, Sunny!


This is me (in black lace) with erotica author Lacy Danes (the red-hot mama in the slinky red dress) at the Golden Heart & Rita awards.
I had such an amazing time! Four days of talking and thinking nothing but writing, with a couple of thousand other writers-incredible! I'm still floating from the experience, and missing all my friends.
Okay-back to my looming deadlines!Eden
Back from RWA!
The RWA conference in Atlanta was fantastic! I met so many people-my editors at Bantam and Berkley (both warm, intelligent, wonderful people!), my agent, Roberta Brown, whom I adore for reasons other than the awesome book deal she brokered for me, so many writers I've been talking to online for months or years, and many new people I spoke with for the very first time.
I met erotic romance author Lora Leigh. Her writing has been ground-breaking in our field and it was an honor to meet her. A wonderful woman with a great sense of humor! Take a look at her impressive body of work on her website: http://www.loraleigh.com/
My buddy Sasha White was there, signing her new book, Bound, a must read for fans of erotic romance! Sasha writes the hottest stories without making any apologies! Take a peek: http://www.sashawhite.net/
My friend Shelli Stevens won the Passionate Ink Stroke of Midnight contest! Shelli writes her steamy stories with a little bit of humor-great stuff! You must see her website for info about her books: http://www.shellistevens.com/
Back at home, I have to get back to reality and get writing! I still have to finish The Lair and wrote all of Love & Discipline by September 1st! I'd better get to it!
More later when I've fully recovered.
Eden