Writing reading and books, oh my!
Okay, really stupid title for today's post, but I couldn't think of anything else.
I'm writing! I'm now working on the part two of Exotica, Nine Days of Arabian Nights, and it's going pretty well. A big thank you to R.G. Alexander for brainstorming this story with me! This hero, Kian, is turning out to be soooooo sexy. He's the most alpha hero I've ever written, and I was afraid I wouldn't be able to write him in a likeable way, but only 24 pages in and he's....lovely...*sigh*.

So-on to books...
My friend Sasha White, has a new one out, and just like the title, it's absolutely...Lush! A hot erotic read for those nights when you just need a little steam...

LUSH
Kensington Aphrodisia
single author anthology
ISBN-10: 0758215487ISBN-13: 9780758215482
Genre: Contemporary erotic romance
Release Date: March 27, 2007
Buy Link:http://www.amazon.com/Lush-Sasha-White/dp/...ie=UTF8&s=books
B&N has the READ A CHAPTER for LUSH up.. it gives you a good sneak peek at the carpenter. http://search.barnesandnoble.com/booksearc...nly=CHP&z=y#CHP
LUSH:
A gallery showcasing erotic art is the setting for these three sensual stories. A take charge gallery owner finds the tables turned by a sexy carpenter…A relationship-shy jewelry designer meets her match in a man devoted to her pleasure…A beautiful massage therapist shows a photographer how much fun candid shots can be…In three scorching tales, Sasha White reveals the art of pure pleasure.
"Three unique stories that all have something in common, realism that tugs at the heartstrings. Ms. White has done it yet again, telling each story beautifully while weaving in the perfect mixture of hope and eroticism. Destined to be one of the greats, Ms. White's use of language and emotion captivates the reader and doesn't let them go until they are spent and satisfied...Kudos for Sasha White, she is definitely an author you want to keep an eye on."
~5 Kisses Shawn Monique, Romance Divas

The pleasure is all yours if you're ready to let your fantasies take control and surrender yourself to desire…
The Principles of Lust
Sleek and sexy erotic art gallery owner Teal Jamison knows what she likes and isn't afraid to let carpenter Zack Dillon know that her current fantasy features him in all his masculine glory. But Zack has a deliciously different game in mind for a woman accustomed to taking charge…
Passion Play
Quick to follow where passion leads, then back off when things get too close, jewelry designer Mia Jones's sensual odyssey with singles columnist Dominick Jamison is perfect: hot, sweet, and with no risk of complications. But how long can her heart stay cold--when she's lost in the heat of a man devoted to every forbidden pleasure her body craves?
Sexual Healing
When massage therapist Caitlyn Ellis shows photographer Jack Lowell the joys of sensual self love for the camera, he can't resist the erotic invitation to take pleasure in her lush curves--or deny himself the hands-on ecstasy of loving a beautiful woman determined to heal his battered soul…by setting his body on fire.
"Sasha White's stories are molten lava all wrapped up in spun silk. Richly emotional and highly passionate, these erotic stories take the reader on a sensuous journey inside the bedroom and out. These sexually explosive novellas will undoubtedly leave you breathless and begging for more. Sasha White continues to have a spot on my keeper shelf."
~Cathryn Fox, author of Pleasure Control

Check out the erotic LUSH GALLERY on Sasha's website. http://www.sashawhite.net/lush-gallery
COVER PHOTO:http://farm1.static.flickr.com/83/214234431_ce15ecc2b9.jpg
It's Art Day!
Today I want to talk about Art Nouveau artist, Alphonse Mucha, whose artwork decorates my blog header.
A favorite artist back when I was a teen in the 70's, I had several posters with his work on my walls, including the piece below. I loved it so much, I hung onto it even after it was starting to crumble and fall apart.
Mucha, 1860-1939, was a Czech artist whose work really set the style for Art Nouveau posters. His subject is most often the female figure; soft, sinuous lines, draped fabrics, flowers, lovely, feminine faces. I know the 'prettiness' of his work makes it more obvious than other kinds of art, and while I love the grittiness of modern black and white photography, even when the subject matter is unattractive or even frighteneing, there is something soothing about the pure beauty of Mucha's art.
Mucha went to Paris in 1887, and at one time shared an apartment with the Impressionist, Gauguin. One of thousands of starving artists in Paris at that time, Mucha finally found success and established his lush style when he created a poster for Sarah Bernhardt, for her play
Gismonda,
in 1894. He went on to design posters for Moet and Chandon, as well as stage sets, and even costumes for Bernhardt. He was eventually invited to design one of the Pavillion's at the World's Fair in Paris in 1900, and published the
Documents Decoratifs
, in order to pass his theories and techniques on to future generations of artists, who wasted no time in imitating his popular style.
Last year while cruising the Internet looking at art (a favorite past time) I came upon a series of old postcards featuring Mucha's work. I went crazy over these, searching out and saving every one I could find. I love the old handwriting and the postage stamps, the history of them, every bit as much as I love the artwork. One of these images eventually became the header for my blog- thank you, Jax!
Mucha was an incredibly prolific artist, and there's an abundance of his work to be found on the Internet, each piece more beautiful than the last. I've hardly done him justice here, so go look for yourselves, and enjoy!




What to read this month...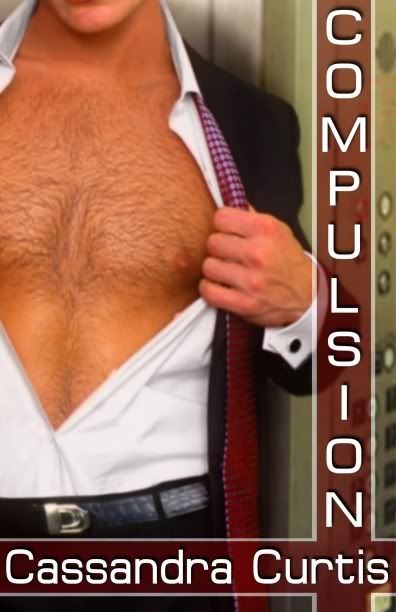 My dear friend, Cassandra Curtis has a steamy new book out today, Compulsion! Check it out:

Compulsion
by Cassandra Curtis
ISBN-13: 978-1-60272-003-9 (Electronic)

Lindsay Dannon has a dirty little secret. While she hides behind her plain and proper image at work, a wanton woman with a rich fantasy life lurks beneath the surface. The thrill of sex in public places, and the risk of exposure, is a compulsive itch she knows only one man can scratch—her boss, Jack Randolph.
The company's "no tolerance" policy on interoffice dating is the only thing stopping her. Good thing Jack created the rules, because he's determined to make all of Lindsay's sexual fantasies come true...

Genres: Contemporary / Exhibitionism / Public Places
Heat Level: 2
Length: Extended Amber Kiss (11k words)
Part of the Amber Heat Risk PAX

For more information, to read an excerpt, or to purchase, go to: http://www.amberquill.com/AmberHeat/Compulsion.html

Jack is lookin' pretty good to me...;)

My friends and fellow authors have been busy! Eliza Gayle's Taken by Tarot was released along with my story, Breaking Skye, both as part of the Phaze Fetish series. Take a look:
Available now at Phaze


Fed up with her non-existent love life, Faith decides to once again consult the cards. Will she find the right man to submit to? When the Tarot leaves her uneasy she attempts a simple spell. The spell goes awry opening the veil between her and the Otherworld where she unwittingly calls for her true love. A man, who now claims to be Fae and her mate, insists he has every right to take her. Despite being kidnapped she is inexplicably drawn to the man who demands her complete and total submission.
When Garon hears his mate call he rushes to her side determined to be "the one" who claims her. A human mate. So rare among his kind. When she resists he exercises his Fae rights and takes her home. His plan is to seduce her into submission before introducing her to his shape-shifting companion, Kian. Will she accept the unbreakable bond between them or force him to release her to an even darker fate?
For more information, visit Phaze!

Scorcha's Heart by Debbie Mumford has been out for a while, but it's never too late for a good read!
Available now at Freya's Bower!

A legendary relic, a dragon-wrought amulet, the Heart of Fire may be the salvation of her people, and Sorcha is willing to pay any price to obtain it, but when she discovers the price is the loss of her humanity, she learns caution too late. Only a hero can save her, and he isn't human.
An ancient relic of dragon magic; its price? Nothing less than Sorcha's heart.
For more information, visit Freya's Bower!

Erotica author Miranda Heart has something hot in store for you with Something Unexpected:

Title: Something Unexpected
Author: Miranda HeartPublisher:
Freya's Bower 2006
Release Date: January 16, 2006Blurb: Beatrice doesn't understand her new found feelings for pain and pleasure until she meets the Marquis de Sade. As hard as she tries to deny her feelings, the Marquis and what he can do to her continues to excite Beatrice. Finally, she devises a scheme to get him alone. By the end of the night, she's sated but disappointed that she can't share her new tastes with her betrothed and must keep it a secret. Having had a taste of what she really needs, how can she endure a long, boring marriage?
Emily Ryan-Davis has a new book out. If you like witches and dragons, give this great read a try!
Available now at Freya's Bower!
Cora Phillips has witchcraft in her blood, but she's convinced she inherited the recessive rather than the dominant trait. Her mother and sister are the real heiresses to the Lune tradition; Cora has neither the interest nor the inclination to take up the Dragonkeeper mantle. Years ago, she left the New York City Witch lifestyle to the other women in her family, and said goodbye to all the velvet and lace. However, during a moment of insomnia-induced insanity, she agrees to come back to celebrate Christmas/Winter Solstice with her family.
It comes as a shock to all three women when Cora, through clumsy fumblings to "get in touch with her goddess" at her sister's urging, calls a pair of ancient dragons into her meditation circle.
Cora swears it's a mistake. Her mother swears it's the correct course of events. Eventually, every Dragonkeeper issues the call to mate. Problem is, nobody expected Cora to summon even a single dragon, let alone two.
Before long, the dragons' guardians come knocking, literally, and ruin any hope of politely apologizing and returning the creatures.
For more information, visit
Freya's Bower
!
That should keep you all out of trouble for a while! Eden ;)

Happy Wednesday!
Okay, can you tell I have nothing to talk about today? In honor of being completely devoid of even one single interesting writing-related topic of conversation, today will be art day on my blog. As some of you may know, I'm a total art geek. I spend hours on the Internet cruising Deviant Art, artist's websites, art history sites...it's a favorite past time. Here are a few of my favorite pieces.
The first one is a piece of sculpture by August Rodin called 'Danaid'. Sculpture is one of my favorite mediums, and no one does it like Rodin did. Look at the graceful lines, the stark sensuality of the piece-it makes you want to reach out and touch it, just to feel the cool, silky stone beneath your fingertips. His work is often highly erotic and always beautifully sensual.
'The Kiss' is his most famous, but his other, less well-known works are equally gorgeous and touching.


' Echo and Narcissus' by John Waterhouse. I adore neo-classical art, as you can see from my website, and Waterhouse is one of my favorite artists. Such lovely details, such a romantic tone to his work, and the draped figures are utterly sensual to me. I love these fantasy scenes of classic myths-true escapist art.



This is 'Athenais' by John William Godward. Isn't she lovely? Another neo-classical artist, Godward has a special touch when it comes to the female figure. His work is powerfully beautiful, and I love the color choices he makes, his attention to details in the background.
I think art can be important to writers. We are artists, of sorts, and it's good for us to open our minds, to explore creativity in all its forms: visual arts, music, the energy is all the same. I admire anyone who can create.
Hopefully, I'll have some significant book news in my next post. I've been working madly on Exotica, and am half-way done, which is pretty exciting, as I've had a terrible time getting into the writing groove this year. But I think I've broken through my block, so, off I go to write!
Eden