What to read this month...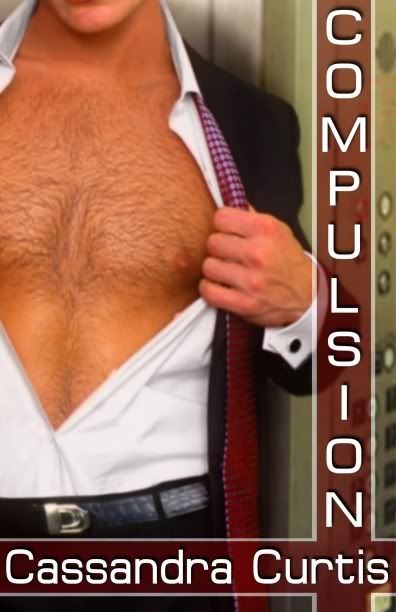 My dear friend, Cassandra Curtis has a steamy new book out today, Compulsion! Check it out:

Compulsion
by Cassandra Curtis
ISBN-13: 978-1-60272-003-9 (Electronic)

Lindsay Dannon has a dirty little secret. While she hides behind her plain and proper image at work, a wanton woman with a rich fantasy life lurks beneath the surface. The thrill of sex in public places, and the risk of exposure, is a compulsive itch she knows only one man can scratch—her boss, Jack Randolph.
The company's "no tolerance" policy on interoffice dating is the only thing stopping her. Good thing Jack created the rules, because he's determined to make all of Lindsay's sexual fantasies come true...

Genres: Contemporary / Exhibitionism / Public Places
Heat Level: 2
Length: Extended Amber Kiss (11k words)
Part of the Amber Heat Risk PAX

For more information, to read an excerpt, or to purchase, go to: http://www.amberquill.com/AmberHeat/Compulsion.html

Jack is lookin' pretty good to me...;)

My friends and fellow authors have been busy! Eliza Gayle's Taken by Tarot was released along with my story, Breaking Skye, both as part of the Phaze Fetish series. Take a look:
Available now at Phaze


Fed up with her non-existent love life, Faith decides to once again consult the cards. Will she find the right man to submit to? When the Tarot leaves her uneasy she attempts a simple spell. The spell goes awry opening the veil between her and the Otherworld where she unwittingly calls for her true love. A man, who now claims to be Fae and her mate, insists he has every right to take her. Despite being kidnapped she is inexplicably drawn to the man who demands her complete and total submission.
When Garon hears his mate call he rushes to her side determined to be "the one" who claims her. A human mate. So rare among his kind. When she resists he exercises his Fae rights and takes her home. His plan is to seduce her into submission before introducing her to his shape-shifting companion, Kian. Will she accept the unbreakable bond between them or force him to release her to an even darker fate?
For more information, visit Phaze!

Scorcha's Heart by Debbie Mumford has been out for a while, but it's never too late for a good read!
Available now at Freya's Bower!

A legendary relic, a dragon-wrought amulet, the Heart of Fire may be the salvation of her people, and Sorcha is willing to pay any price to obtain it, but when she discovers the price is the loss of her humanity, she learns caution too late. Only a hero can save her, and he isn't human.
An ancient relic of dragon magic; its price? Nothing less than Sorcha's heart.
For more information, visit Freya's Bower!

Erotica author Miranda Heart has something hot in store for you with Something Unexpected:

Title: Something Unexpected
Author: Miranda HeartPublisher:
Freya's Bower 2006
Release Date: January 16, 2006Blurb: Beatrice doesn't understand her new found feelings for pain and pleasure until she meets the Marquis de Sade. As hard as she tries to deny her feelings, the Marquis and what he can do to her continues to excite Beatrice. Finally, she devises a scheme to get him alone. By the end of the night, she's sated but disappointed that she can't share her new tastes with her betrothed and must keep it a secret. Having had a taste of what she really needs, how can she endure a long, boring marriage?
Emily Ryan-Davis has a new book out. If you like witches and dragons, give this great read a try!
Available now at Freya's Bower!
Cora Phillips has witchcraft in her blood, but she's convinced she inherited the recessive rather than the dominant trait. Her mother and sister are the real heiresses to the Lune tradition; Cora has neither the interest nor the inclination to take up the Dragonkeeper mantle. Years ago, she left the New York City Witch lifestyle to the other women in her family, and said goodbye to all the velvet and lace. However, during a moment of insomnia-induced insanity, she agrees to come back to celebrate Christmas/Winter Solstice with her family.
It comes as a shock to all three women when Cora, through clumsy fumblings to "get in touch with her goddess" at her sister's urging, calls a pair of ancient dragons into her meditation circle.
Cora swears it's a mistake. Her mother swears it's the correct course of events. Eventually, every Dragonkeeper issues the call to mate. Problem is, nobody expected Cora to summon even a single dragon, let alone two.
Before long, the dragons' guardians come knocking, literally, and ruin any hope of politely apologizing and returning the creatures.
For more information, visit
Freya's Bower
!
That should keep you all out of trouble for a while! Eden ;)