New & Exciting Stuff!
Lots to talk about this week and no time, so I'm going to try and fit it all in at once...
I'll have plenty of books coming out in the next two years due to two new contracts-a two book deal with Harlequin Spice, and a two-book deal with Berkley Heat! Very exciting, but it also means I'll be incredibly busy! I have three full novels to write by February 1st, which I begin once I'm done with the novella I'm working on now, a futuristic vampire menage story, which has been really fun to write and so different from what I've been doing the last several years. I can't announce yet where this story will appear-stay tuned for news about this one-and about the rest of the series-yes, series!!! I know, I never, ever do series or sequels, but I have two planned, somehow.
Okay-on to other exciting news!My fellow Smutketeers, Crystal Jordan and Lilli Feisty are having simultaneous releases today!(I love how kinky that always sounds!).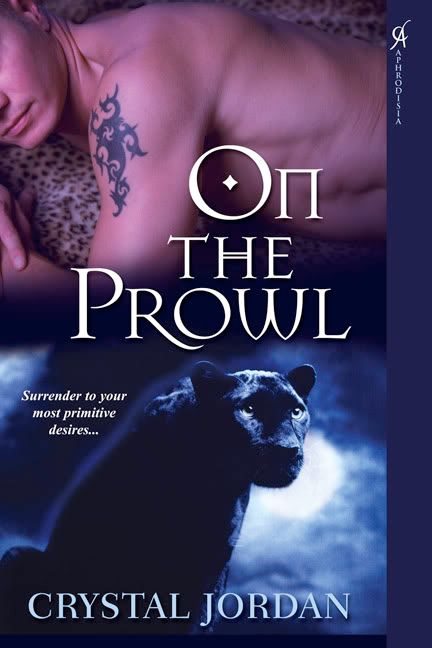 ON THE PROWL by Crystal Jordan

Meet the Cruz brothers. They look human—except for the golden sheen their eyes take when they're aroused beyond control...and the way their claws come out when it's time to play rough. They're Panthers, ancient shapeshifters, and their survival depends on mating to bring out their wild sides...

Undeniable

When Antonio, the strong, sexy new leader of the Panther pride, meets luscious Solana in a dark alleyway, their passion lights up the night. But she's an outcast, an impossible mate—and her touch makes him lose all control...

Irresistible

Ex-model and businesswoman Andrea doesn't need anyone—until she meets Miguel, who tempts her mind with daring games and teases her body with dark, forbidden pleasure she can't resist...

Indescribable

Wild twins Ricardo and Diego do everything together—and their women appreciate the teamwork. Until shy Isabel takes refuge in their pride, and both want to claim her. Of course, sometimes two mates are better than one...

Places to get it on the web:

Barnes & Noble
Powell's
Amazon
Chapters.ca
***



BOUND TO PLEASE by Lilli Feisty

FROM FANTASY TO ECSTASY

Ruby Scott is a beautiful, quiet event planner who leads an oh-so-respectable life. Yet the things that go on in her secret fantasies are anything but. She has every intention of keeping her hidden desires under wraps-until she meets a gorgeous, hard-muscled man ten years her junior. Mark St. Crow is a gifted, up-and-coming musician who collects erotic art and loves to "play" women as much as his piano. After one night of uninhibited passion, Ruby realizes there's no turning back. But as she surrenders to her deepest needs and lets Mark control every forbidden thrill, her passion for him builds. Can the wild, intoxicating nights they share lead to a love that will last forever?

Barnes & Noble
Powell's
Amazon
Chapters.ca

Labels: Aphrodisia, Berkley Heat, Crystal Jordan, erotic romance, erotica, Grand Central Publishing, Harlequin Spice, Lilly Feisty
Samhain Editor Angela James at RT this week!


Join Angela James and Ron Hogan at RT this Wednesday from 11:45-12:45 to "Polish Your Pitch". Angela
got left off the official RT schedule so please help spread the word!

"Samhain Executive Editor Angela James and publishing industry
commentator Ron Hogan of Beatrice.com lead an interactive workshop on
creating a great story pitch. Come prepared to tell us what your
novel's about; we'll take your description apart then help you rebuild
it better, stronger, faster. Don't be afraid...we'll be gentle."

Ron Hogan is well known as a savvy,fair book reviewer and knowledgeable commentator on all
aspects of the publishing industry, both digital and print.

http://beatrice.com/wordpress/about-ron-hogan/

BIO: Angela James is the Executive Editor of Samhain Publishing. Her mission is to drag readers
(and authors) to the digital dark side, one reader at a time.

Labels: Angela James, Romantic Times, RT, RT Convention, Samhain, writing workshop
Excerpt Monday! (R-Rated!)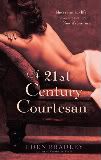 It's Excerpt Monday at Romance Divas and this week I'm playing along! Here's an excerpt from my latest novel, A 21ST CENTURY COURTESAN:
I learned about something called suspension of disbelief a number of years ago in one of my English Lit classes. This is when a writer must make their reader suspend their disbelief in the unusual long enough to be drawn in and believe in the world the writer has created.
It's something like that with my line of work. Our clients must suspend their disbelief long enough to believe the girl likes it. My particular 'talent', if you want to call it that-my particular perversion, really-is that they don't have to do that with me. The truth is, I love it.
This is my dirty little secret. Because this is supposed to be taboo among the professionals of my world. Call girls. Prostitutes. Hookers. It doesn't matter what you call us. The fact is, I get paid for sex. And it's the only kind of sex I can get off on.
Who knew a nice Jewish girl from the Valley could end up here? Well, half Jewish, anyway, my father being a lapsed Catholic. And maybe I've never been all that nice.
I grew up in Van Nuys. Van Nuys is possibly the most generic, boring place on earth. Middle class, cardboard box houses that all look the same, block after block. The entire area looks as though a dull film has settled over it.
My family was at the lower end of the middle class. Not that we were poor. We always had a roof over our heads, food on the table. My father, a construction foreman, worked a lot, but he spent his money anywhere but at home. My mother never did much other than drink. Strange that he wasn't the drinker. Jews don't tend to be drinkers. Not that it ever stopped my mother. But my life has been a combination of the utterly dull and the most perverse, in every way, on every level. Classic hard life story, I know, but that's my life. Or it was. Too f**king bad.
I make a lot of money. Enough to keep me very comfortable in my Hollywood Hills home. Enough to pay for the expensive clothes I buy at Barney's and Kitson, my weekly facials and massage at the spa. Enough to pay for the breezy little Mercedes I drive, if it hadn't been a gift from a happy client. This is why I do it.
Actually, that's a lie. It's what I tell myself when I'm not in the mood for the kind of deep, soul-searching honesty that keeps me up at night. How I justify it in the most basic, simple terms.
The truth, or part of it, anyway, is that I began in this business because I needed to distance myself from what I was before. From that lower middle class Jewish girl from the Valley whose mother was always passed out on the couch, surrounded by a sticky puddle of whatever she was drinking on the floor, the overflowing ashtrays. Repulsive. I won't even allow my clients to smoke around me. If they don't like it, they can find another girl. I'm at a point in my career where I can make a few demands of my own, and I do.
I am someone else entirely now.
I look different. I am different. No one from my old life would even recognize me. And truly, I wouldn't care if they did. My life before this is almost in another dimension, in my mind. I like it that way.
I don't look like the average girl from the Valley. My one gift from my mother is a fine-featured, beautiful face. I don't mean to be vain; I am beautiful. People who pretend not to know these things are full of crap. I have long legs, a great body, hard and tight, even this close to thirty. My brown hair, highlighted in gold and caramel, hangs in layers almost to my waist. Most men prefer long hair on a woman, so I rarely cut it. My eyes are green, without the colored contacts the other girls wear. High cheekbones, a full, lush mouth. My ass is superb. I've been told so often enough. But what really gets them is that I love what I do. I love sex. I don't care who I'm doing it with. I just like to f**k. I like to suck c**k. I love the anonymity of these men not knowing who I really am. I get off on it.
But there's one catch. I have to get paid.
I have never had an orgasm with a man unless he's paying to have sex with me. My first trick was like an epiphany. The moment he handed that wad of cash over into my greedy little hand, my body started to heat up, my legs began to shake, and I was coming almost as soon as he touched me. That's when it became magic for me.
Which brings me to Enzo Alighieri.
He was one of my first clients. Enzo found me at this cheap call girl outfit where I got my start. And he knew right away I was different from the other girls there. He told me I was too beautiful, in his lovely Italian accent. I adored him on the spot. Not the way a normal woman might adore a lover. It was never that complicated. I liked him the moment he walked into the room. So sophisticated. Elegant. And he's sexy. He really is, even at nearly seventy now. He has that commanding air about him; I'm sure everyone else in his life kowtows to him. Everyone but me. He lets me get away with anything.
I understand perfectly well that I'm nothing more than a sort of pet to him. A project. And a priceless piece of ass. He often tells me so. But it was Enzo who took me under his wing, got me out of that dump of a whorehouse in Hollywood and made me go to school.
Yes, school. Because if you're going to be what amounts to a modern day American geisha, a 21st century courtesan, you must be well-educated, just as the geishas are. Just as the old Venetian courtesans were.
In addition to having studied history, literature, business and political science, I now know how to play golf and tennis, although not too well. Men prefer to win, don't they? I read the Wall Street Journal and Forbes. I've studied massage therapy, I know wine. I've learned to speak German, a little French and Spanish, and even a few words of Japanese and Arabic, both of which are a necessity in my line of work.
The Middle Eastern rich have tons of money. More than the usual wealthy do, and they aren't at all shy about spending it on whatever brings them pleasure. I admire that in a person. They're the ones who fly the girls to Miami for a week, to Europe, even. Give us entire wardrobes of designer clothes. They like to have a lot of girls at once. I don't mind. We all get paid, regardless, and it makes the workload a little easier. And the food is always superb. Unfortunately, I'm thinner than most of them like, so I don't get those dates the way some of my friends do. But once a man is with me, he'll always come back for more.
They can always tell, my clients. Even the most selfish, the most dense. They know right away that I'm into it, that my orgasms are the real thing. And these men are the sexual sophisticates of the world. They've had first-class ass in every corner of the planet: the pros in Amsterdam, Paris, Berlin.
I know I sound crude when I talk about these things, but this is a crude world. But I'm not bitter, I swear it. I see the beauty in the world, too. I've spent far too much time around the rich and privileged to be blind to beauty, not to appreciate it. I love the ballet, could watch it for hours. I could wander every museum on earth and never get enough. My current obsession is art history, and I've been taking classes off and on for the last few years, soaking it all up. This is something I do purely for me. I may be a classless kid from the Valley, but I've learned about the rest of the world, have seen enough to develop a real appetite for the finer things in life. And for me, art has become a necessity.
There is the gritty side to my lifestyle, of course. Even the girls at the top of this food chain can get into trouble. There was Trina, a gorgeous girl, new to the business, who was kidnapped and taken to some Godforsaken place in Southeast Asia and never heard from again. These things happen, and when they do, when we working girls hear about it, it scares us, even if we pretend it doesn't. This job, as luxurious as it is, is not entirely without risk. But we keep doing it, anyway, don't we? Some sick part of me gets off a little on the cheap thrill, I'll admit to that.
I don't like fast cars, in particular, and you'll never catch me climbing a mountain. My thrills are all of a sexual nature. Which makes me the perfect woman for this job. Oh yes, I'm very good at what I do. I am embedded in this life for the long haul. It suits me to a 'T'. It makes having a 'real' relationship entirely impossible. But the circumstances of my life since childhood have made that impossible for me anyway, so I've never minded. What other sort of life would I have? What would I even want? No, I'm perfectly fine right where I am.
*****

Links to other Divas participating:
Maureen McCarrie
Vivienne Westlake
Jeannie Lin
Kinsey Holley
Becca Sheridan-Furrow
Kirsten Saell
M. Berthier
Ella Drake
Evie Byrne
Gina Ardito
Kate Willoughby
R.F. Long
Bria Quinlan
Stephanie Adkins
Lynn Chandler
B.E. Sanderson
Babette James
Amber Gilchrist
Just added! T. Sue Versteeg
Amazon Discriminates!
I rarely get involved in 'political' debates, but this one really pisses me off! Amazon recently decided to strip all 'adult' material, including erotica and erotic romance, of sales rankings and search capabilities. They've also included ANY GLBT material-even YA fiction with gay characters that contain no sex whatsoever, and non-fiction books to help GLBT youths deal with issues, such as coming out.
There is no basis for this even in their own published policies! This will certainly hurt our sales as authors, will hurt the publishers who deal with Amazon, and their own customers-and ultimately, their own sales. I am encouraging everyone to buy their books at Barnes & Noble or Borders online, or other sources such as Fictionwise, until Amazon can be made to see the error of their ways.
Meanwhile, please help us by signing this petition:
http://www.thepetitionsite.com/1/in-protest-at-amazons-new-adult-policy
You can read more here:
http://markprobst.livejournal.com/15293.html?view=62653#t62653
Thanks for your support!
Eden

**Edited to add a bit of brilliance from Smart Bitches:
Amazon Rank

**UPDATE: Sunday evening: Amazon is apparently now claiming this was all a 'glitch'-utter crap since they responded to several people's inquiries in which they stated there was a new policy governing adult material. You can see more on the Publisher's Weekly site (LOTS of people looking at this so it may take a while to get in:
http://www.publishersweekly.com/article/CA6651080.html?desc=topstory

UPDATE: 4-13-09: I got a response to my email to Amazon today...interesting:

Thank you for contacting Amazon.com.

This is an embarrassing and ham-fisted cataloging error for a company that prides itself on offering complete selection.

It has been misreported that the issue was limited to Gay & Lesbian themed titles - in fact, it impacted 57,310 books in a number of broad categories such as Health, Mind & Body, Reproductive & Sexual Medicine, and Erotica. This problem impacted books not just in the United States but globally. It affected not just sales rank but also had the effect of removing the books from Amazon's main product search.

Many books have now been fixed and we're in the process of fixing the remainder as quickly as possible, and we intend to implement new measures to make this kind of accident less likely to occur in the future.

Thanks for contacting us. We hope to see you again soon.


Sincerely,

Customer Service Department
Amazon.com

Labels: Amazon ranking, Amazon ranks, censorship, erotic romance, erotica, Google-bombing, Smart Bitches, urban dictionary
TEMPT ME TWICE, Baby!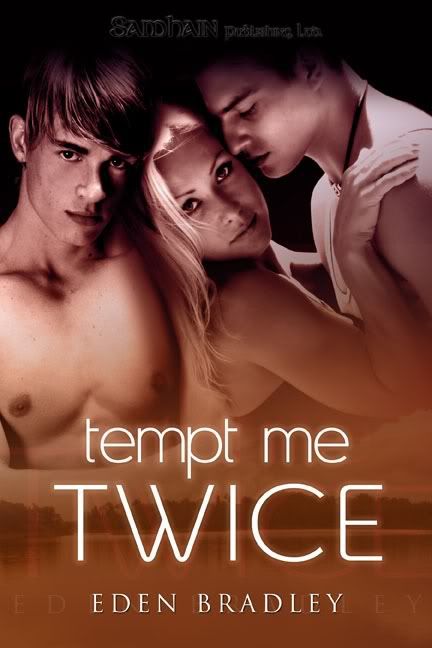 My latest release, TEMPT ME TWICE, is my very first hot menage story, and my first story from Samhain, and it's out today!

One hot man is good. Two's double the fun…until your heart gets involved.
Jessie has been in love with her bisexual best friend, Paul, since their college days. He's never made a move on her, though, and at this point she values his friendship too much to risk revealing her feelings. Especially since now he has a new male lover and seems so happy.
Paul and Noah have only Jessie's rest and relaxation in mind when they invite her along on a camping trip to Lake Tahoe. She's been pretty stressed out preparing to show her art at a major New York gallery. A weekend getaway will do her a world of good—and they won't take no for an answer.
Jesse thought she'd be nothing more than a third wheel on this trip. But Noah is as sweet and hot as Paul, and their first night turns into a heated tangle of bodies in the dark tent by the lake.
It's an erotic, intense experience that must come to an end. And when it does, will she still have her best friend?

Warning: Explicit and unusual sex in nearly every possible combination: boy on girl, boy on boy, boys on girl, with a little anal action and some spanking thrown in just to keep things interesting!
* * *
Want a little peek inside? Okay, but only for you...
* * *
Somehow, an hour later, she was in Paul's black Jeep Cherokee, roaring up Highway 80 on the way to Lake Tahoe. Music blared from the CD player, the windows were down to let the fresh summer air in and she was more relaxed than she'd been in months.

"So," Noah started, "tell me how you two met."

"I picked her up in a sex ed class," Paul said, winking at her over his shoulder.

"Hah. Hardly. I was his English tutor."

"Yeah, but my version is so much sexier."

Why did he have to say something like that? When had things between them ever been sexy, other than in her vivid imagination?

"You've known each other a long time then," Noah said.

"We've been friends for ten years." Paul turned again, flashed her a quick smile, and her insides melted as always.

"Why just friends? Or has something more ever happened between you two?"

"No, nothing," Paul was quick to answer, then they were both silent.

Noah looked from Jessie to Paul. "Sorry. Not my business. I shouldn't have asked."

"It's okay," Jessie told him. "It's a reasonable enough question."

One she'd never been able to answer.

"What about you two? You met when Paul went to Quebec to pick up that T-bird, right?"

Noah nodded, smiled, a brilliant flash of strong white teeth.

Beautiful man.

"Yeah. He came into the bar where I was having a drink with an old friend. I'm really not usually the bar type. But Paul walked in, the hot American import. I liked him right away. I still do."

He reached out, stroked a hand over Paul's T-shirt-clad shoulder, and a rush of envy went through her. If only she could touch Paul so casually, express her desire for him so openly.

If only Noah would touch her like that.

Jesus. She really was a mess. She didn't even know who she wanted. And nothing was going to happen anyway. She may as well get over it.

But she was wet, aching, as much as she'd been in the shower.

They reached their campground on the edge of Lake Tahoe in another four hours, parked and got out of the car. The sun was lowering in the sky, casting darkening shadows over the crisp blue, touching the water in the lake with silver. Fir trees surrounded the lake, which sat like an enormous blue bowl, cradled by the surrounding mountains.

Jessie raised her arms over her head and stretched her back, breathing in the crisp, clean air. So gorgeous here. She was glad she'd come, despite her uncontrolled surges of lust. Paul came around the side of the car and slid an arm around her shoulders.

"Can I tempt you to get some food ready while we put the tent up?"

He could tempt her into doing almost anything, if only he knew it.

"Sure. I saw the ice chest in the back. I'll take care of it."

They spent some time getting the campsite together. The sun dove into the horizon in a blaze of summer sky glory. Shades of pink, amber and gold cast long shadows against the trees, touching the boughs with color, before sinking, leaving them in darkness other than the light from the fire they'd built and the two Coleman lanterns, the faint glow from the other campsites.

Dinner was simple, pan-fried steak and potatoes wrapped in foil and baked in the fire, a bottle of wine followed by another. Conversation was easy. Noah was easy to be with, warm, friendly, open. He and Paul sat side by side, laughing, touching, yet somehow still making Jessie feel included.

She'd had too much wine, but it didn't seem to matter. Paul and Noah would take care of her, she knew. She could let go, for the first time in far too long.

Finally it was time to settle in for the night. Paul helped her to her feet.

"Whoa, Jess. Hang on."

"I'm okay. Just have a nice little buzz going."

"Maybe more than a little." He grinned at her.

"Maybe." She grinned back, her body going warm all over as he looped an arm around her waist.

They moved to the tent, and Noah held the flap back for them. It was a large tent, almost tall enough for Paul to stand up straight in. Noah was already spreading out their sleeping bags, Paul's in the middle. Jessie sat on hers to take her shoes off.

Paul yawned, stretched.

"Anyone else tired?"

"A little sleepy from the wine," Jessie said.

"Me too." Noah pulled his shirt over his head, revealing tight abs and a wide chest. She could make out his muscle tone even in the dim light of the single lantern they'd taken into the tent with them.

Paul stripped his shirt off too. She'd seen him without a shirt before, and it was something she never got over. The lean lines of his body, his smooth skin, his nipples dark, surrounded by a sprinkling of black hair. She wanted to put her mouth there, to suck…

Stop it. Time to sleep.

The men stripped down to their boxer-briefs, and she could see they were both hard, aroused. She squeezed her thighs tightly, her sex burning with need.

Paul glanced at her. "You're not sleeping in your clothes, are you, Jess? It's too hot."

"Um…I guess not."

She shrugged, wiggled out of her jeans, leaving her in her tank top and her underwear. It wasn't that she was ashamed of her slim body. But they were all nearly naked together, and as Paul lay on the sleeping bag next to hers, she could swear she felt the heat from his big body. His scent, warm on the night air. And more faintly, Noah's scent, fresh and all male.

How was she ever going to get to sleep?
* * *
Buy it now!

Labels: Eden Bradley, erotic romance, erotica, m/m, m/m fiction, menage, naked men, sensual, smut, three way, three-way
Reading canceled!
Just wanted to let everyone know that due to life circumstances, I've had to cancel my reading at In The Flesh this Wednesday night. The event is still happening with a list of other authors, so please go! I hope to be able to reschedule some time in the next few months. In The Flesh happens every month, so check back for my next appearance there!
In The Flesh Reading this Wednesday!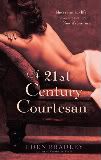 I've been so swamped I forgot to tell everyone I'll be doing a reading from my latest book, A 21ST CENTURY COURTESAN, at the April
In The Flesh
reading in West Hollywood, along with a group of other erotica authors. This is a monthly event which was originally started in New York by renowned erotica author Rachel Kramer Bussell. Stan Kent and Jolene Hui continue the tradition here in LA, including serving Rachel's favorite cupcakes and other goodies at the Hustler Hollywood store's fabulous cafe.
Don't be frightened off by the event being at the Hustler Hollywood store-someone once described it to me as being like Barnes & Noble, but with erotic books and sensual toys-it's clean and inviting and very female-friendly.
Here's the info for anyone who's interested (and if you write erotic romance, this is a great opportunity to meet the event's organizers and the book buyer for the store to arrange your own reading-the store will stock your books and it's a great promo event!)
Hustler Hollywood
8920 Sunset Blvd.
West Hollywood, CA
This Wednesday, April 8th, 8:00 PM
Hope to see some of you there!