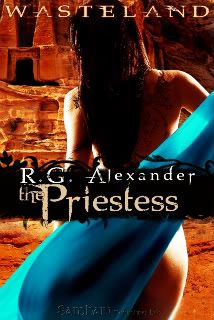 So much exciting news! R.G. Alexander's THE PRIESTESS, is out today! This is the final book in our Wasteland continuity series from the Smutketeers: myself, Crystal Jordan, Lilli Feisty and R.G. Alexander. This story really wraps up all of the others, so it's a must-read in the series! Buy it now!

My book in the Wasteland series, THE BREEDER, is available now from Samhain! And the cover is up for best cover in the Clash of the Covers contest at the Embrace the Shadows blog-please drop by and vote for my cover! Buy THE BREEDER, Crystal Jordan's THE WANDERER, and Lilli Feisty's THE WHORE, at Samhain now! And drop by our Smutketeers blog for R.G.'s release week festivities, contests and more!
Have you seen the downloadable tapestry wallpaper of all our covers?



Have you seen our Wasteland video? Take a look!


Labels: bi menage, book release, contest, Crystal Jordan, Lilli Feisty, R.G. Alexander, The Breeder, The Priestess, The Wanderer, The Whore, Wasteland