We're not in Kansas anymore, Toto.
But you can buy RG Alexander's erotic romp, NOT IN KANSAS now! I've been waiting and waiting for this book, and I'm so excited! Hell, just looking at the cover excites me. . .
Gliders and Wizards and Sex Droids… Oh My!
Kansas Frayne has everything he needs. Except a life—and love. A freak storm changes all that when it hurls him into the darkness. He wakes up to find he's been thrust into a world of promiscuous and directionally challenged beings, sensually sentient water and servants created solely to fulfill any imaginable fantasy.
The sexuality he's long denied is tested to its limits, especially when a darkly erotic wizard issues the ultimate challenge. If Kansas wants to go home, he must fulfill one task. Resist the allure of the unbearably beautiful king.
Sounds easy enough.
Until he gets a look at the golden monarch. The chemistry between them is undeniable, and Kansas quickly realizes this is a challenge he is doomed to fail. Yet he has to try.
Before he loses his heart.

Warning: Gratuitous and barely veiled references to a classic fairytale. Graphic Male/Male scenes. Androgynous pleasure droids. I'd say we're not in Kansas anymore, but, well…

Watch for the sequel, SURRENDER, DOROTHY, available in March.
Carnal Desires!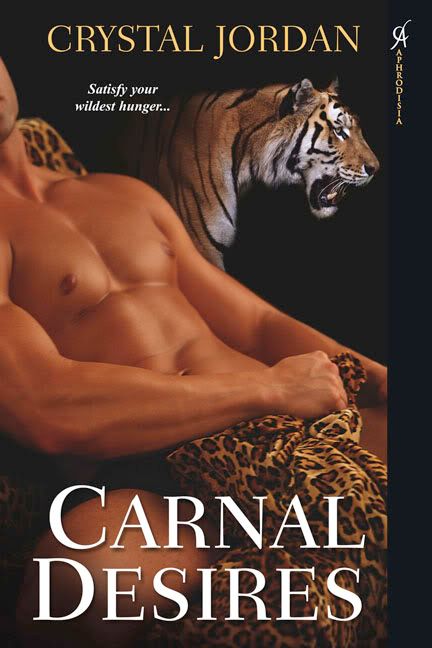 Here's what it's about:

Centuries after the

destruction of earth

, several species of altered humans still survive. These shape-shifters are exciting and exotic creatures, and their human forms do little to mask their most primitive and passionate instincts...

IN HEAT
Mahlia is a snow tigress in heat and now that her tiger king has returned to rule the planet Vesperi, she can no longer deny her desperate need to mate. She greets him as a woman, but their desire for sex is uncontrollable as they come together with a primal passion.

IN SMOKE
When Lady Katryn is called back to her home world to join Lord Nadir's harim, she is curious to learn more about her weredragon nature. What she discovers is a scorching eroticism that consumes her all over.

IN MIST
Dr. Sera Gibbons is one of only two human survivors after a five hundred year cryogenic freeze. Save by the merman Bretton Hahn, she savors the way her caresses her and makes her live out her wildest fantasies.

And if you want to get it online rather than going to a brick-and-mortar store, here's how:



http://www.amazon.com/Carnal-Desires-Crystal-Jordan/dp/0758228996/

" target="_blank">

Amazon.com




http://search.barnesandnoble.com/Carnal-Desires/Crystal-Jordan/e/9780758228994/

" target="_blank">Barnes & Noble


http://www.chapters.indigo.ca/books/Carnal-Desires-Crystal-Jordan/9780758228994-item.html

" target="_blank">

Chapters.ca
Art of Sensuality!
Title: ART OF SENSUALITY
Author: Jax Cassidy
Publisher: Parker Publishing
ISBN:
978-1-6004-3044-2

Page Count: 250 pgs / print
Release Date: November 17, 2008

Art was not only a passion of Machiko Barrett, but also a destiny…a way of life she has known since her talent was discovered at three years old. Caught in a turbulent storm of celebrity, scandal and corruption, she disappeared from the art world only to re-emerge fifteen years later as an
au pair
to the two young children of renowned Parisian gallery owners. Her sheltered existence is disrupted when she is lured back to her one true passion: painting.

While Machiko struggles to find her own identity through her art, she encounters Caleb Holden, a sexy, unpredictable and irresistible neighbor with a penchant for collecting art, and women. As he discovers the girl within the woman, the secrets of Machiko's past return to haunt her, revealing scars she never knew existed. She must learn to conquer her fears and allow him into her heart or risk slipping back into a cold, lonely world that once held her spirit captive. Through Caleb's determination to educate Machiko about trusting herself and her abilities, he opens her eyes to the art of sensuality, and awakens the woman buried deep inside the broken girl.

Author Bio:
Jax Cassidy is a multi-published author and has written under the pen name Cassidy Kent. She is Co-Founder of Romance Divas, an award winning romance writer's website and discussion forum. In between skydiving for charity and campaigning against
human trafficking
, she enjoys the company of close friends and indulges her caffeine fix at the nearest cafe. An avid traveler and an adventurous spirit, Jax has drawn inspiration from her experiences and often blends the exotic mix of Eastern and
Western lifestyles
into her writing. When she isn't locked up in her office penning her latest manuscript, Jax can be found creating
abstract paintings
for
future art shows
, or dividing her time between
California
, Texas, and
Florida
.

For more information on Jax, please visit her online at

www.jaxcassidy.com

or

www.jaxadora.blogspot.com
Book Signing this Sunday!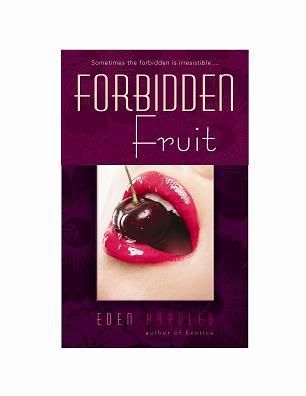 This Sunday, November 16th, I'll be signing my new book, FORBIDDEN FRUIT, at the Barnes & Noble in Encino at 12:00! Stop by and grab a copy of my latest release. FORBIDDEN FRUIT is my hot and sensual food fetish book, and was profiled in Cosmopolitan magazine! Here's a blurb:

For university professor Mia Rose Curry, it was all academic: her course in alternate sexuality was a safe, socially-acceptable way for her to talk about the things she desires most—but has never let herself experience. And while students crammed into her class to learn about fetishes, bondage, voyeurism and much more, Mia kept her own raging desires, and her most private fantasies, carefully under wraps…until one student undressed her with his eyes...
Jagger James is everything Mia wants and everything taboo, yet Mia can't help imagining drawing closer and closer to this forbidden fruit. She soon discovers how much Jagger wants her, demanding she abandon every inhibition with him. Now, they are about to take a dangerous step, tempting each other's flesh, savoring every touch and breaking every rule in the book—knowing that this dazzling, sensual feast is only a taste of something more to come…

Here's the info:
Barnes & Noble
16461 Ventura Boulevard
Encino, CA 91436

It'll be a quick signing, from just after noon until around 1:00, in the back of the store. Hope to see you there!
Interview on Playboy Radio!
This Tuesday, November 11th, listen to my interview on Sirius Satellite's Playboy Radio's Night Calls with adult superstar Christy Canyon! I'll be talking about my October release, FORBIDDEN FRUIT, which was recently profiled in Cosmopolitan magazine's Red Hot Reads. I'll be on around 5:00PM PST. I never know what will happen on the air-Playboy is always tons of fun! Should be interesting...I might read an excerpt, give sex advice on the air, or whatever Christy thinks of-and believe me, she has a vivid imagination! This is my food fetish book ,and I plan to bring Christy a basket of strawberries and whipped cream...Stop by if you can.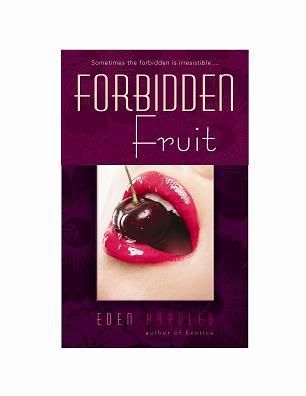 Meanwhile, you can check out my interview on Joyfully Reviewed, posted today!