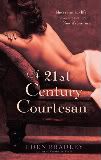 I've been so swamped I forgot to tell everyone I'll be doing a reading from my latest book, A 21ST CENTURY COURTESAN, at the April
In The Flesh
reading in West Hollywood, along with a group of other erotica authors. This is a monthly event which was originally started in New York by renowned erotica author Rachel Kramer Bussell. Stan Kent and Jolene Hui continue the tradition here in LA, including serving Rachel's favorite cupcakes and other goodies at the Hustler Hollywood store's fabulous cafe.
Don't be frightened off by the event being at the Hustler Hollywood store-someone once described it to me as being like Barnes & Noble, but with erotic books and sensual toys-it's clean and inviting and very female-friendly.
Here's the info for anyone who's interested (and if you write erotic romance, this is a great opportunity to meet the event's organizers and the book buyer for the store to arrange your own reading-the store will stock your books and it's a great promo event!)
Hustler Hollywood
8920 Sunset Blvd.
West Hollywood, CA
This Wednesday, April 8th, 8:00 PM
Hope to see some of you there!