September is my birthday month, so I'm, going to spend the entire month being self-indulgent. Or at least, thinking about it. One of my favorite indulgences, as many of you know, are shoes. I am a total shoe whore. I believe you can never have too many pair because no matter the piles of shoe boxes stacked in my bedroom closet, guest room closet, and office closet, there is, inevitably, that one outfit for which I don't have the right pair. The only cure is to keep buying them, in the hopes of eventually catching up. That's one of my rationalizations, anyway.
And since this is my birthday month and I'm not terribly happy about the number approaching (can I really be this close to 50?? Impossible!), I'm going to post about my favorite indulgence, and dream a little about the shoes I'm yearning to have, to hold in my hands, to admire, to have on my feet.
I love stilettos, but I'm also looking at flats right now-great for running around in the winter when it's too cool for flip-flops (which is what I usually wear, since I live in LA). I found some cute ones!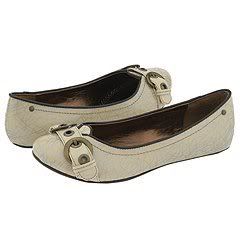 These are adorable, look comfortable, and I love that the name of the manufacturer is Naughty Monkey. :)

These are Michael Kors-leopard never goes out of style-used sparingly, of course.

The Selena shoe from L.A.M.B. by Gwen Stefani-love, love, love these! Such fierce shoes. Shoes like this make me feel powerful. And tall.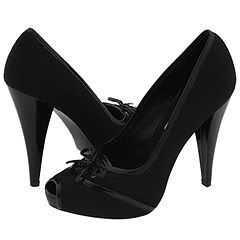 I adore these-bad secretary shoes...*G* They're Steve Madden-I have a number of his shoes. He makes my favorite silhouette.
These have a great vintage feel. My friend Lilli Feisty has turned me onto T-straps. Also made by Naughty Monkey, and so cute. They even look like they'd be comfortable-not a priority for me when it comes to shoes, obviously, but a nice bonus.

Another pair of Steve Maddens and I'm crazy about these shoes! I always like hardware on a shoe.
The Michael Kors Lolita shoe, and I really, really want them! I love the look of a stiletto-heeled spectator pump, and there are enough unusual design elements in this pair to make them truly special. *sigh*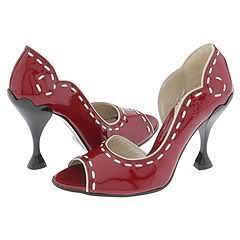 I've been on the search for several years for the prefect pair of red shoes. These are by John Fluevog, the Hepburn shoe. They're just a little wacky, which I love.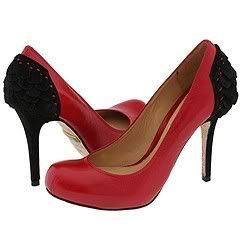 Another pair from L.A.M.B. Hot red shoes, but not quite the

perfect

pair...
These are from Chinese Laundry. Again, great hardware. But still not perfect, so the search is on. That's as good an excuse as any...

So, tell me-what's your favorite indulgence? Chocolate? A long, hot bath? An hour to browse through the bookstore?