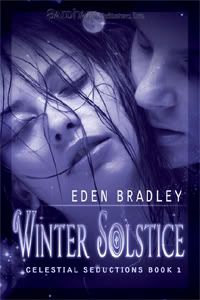 I'll be chatting on the Samhain Cafe loop tomorrow-Thursday, December 17th from 1-3 PST (that's 4-6 EST) with authors & friends Jenna Bayley-Burke, RG Alexander, Lilli Feisty, Kirsten Saell, Natasha Moore, Ember Case, Julia Knight, RF Long, Nell Dixon & others TBA to celebrate the release of my erotic novella, WINTER SOLSTICE! This is the first in my new Celestial Seductions series.

If you're not a member of the Samhain cafe Yahoo loop, you can join any time-there are great author chats and prizes each week!
I'll be giving away an e-book to one lucky winner at tomorrow's chat, so be sure to drop by!
Here's a little peek at WINTER SOLSTICE:

Love with a beautiful stranger isn't so strange—if you believe in destiny.
Celestial Seductions, Book 1
Clinical psychologist Destiny Walker considers herself far too logical for any of that "soul mate" nonsense. Even if her beloved, dearly departed Nana insisted she was going to meet hers someday. When a sudden downpour sends her ducking into a psychic reader's storefront—and the woman confirms everything her grandmother said—doubt begins to sneak into the corners of her mind.
A chance meeting—more like a collision—with Superman look-alike Reece Kellan sets off a sexual chemistry reaction the likes of which she's never felt. She isn't prone to falling into bed with strangers, but he does things to her body that leave her breathless…and unsure where her pleasure ends and his begins.
And that's the part that scares the hell out of her…
*This book has been previously published and has been revised and expanded from its original release.
Warning: Dirty sex with a stranger, a little anal play, more dirty sex, sex on the kitchen table, more dirty sex (because really, can you ever get enough?) and even love at first sight—shocking!
*****
Come by tomorrow's chat for excerpts and more!