I know people always say this, but Tina really was the

best

dog. She was so sweet and loved everyone. She was the best of everything in a dog.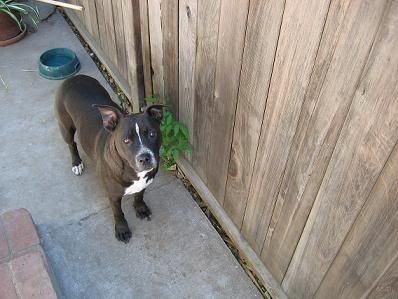 Tina was a bit odd. She couldn't have been one of my pets otherwise-lol! She was obsessed with bees. She'd stand by the flowering bushes in the back yard for hours trying to catch them, and got stung all the time, but she actually sort of seemed to like it. (Oh yeah-she was definitely my dog!). She also had a rather insane fondness for chocolate, and could tell the difference between the cheap stuff and the expensive imports. Lindt milk chocolate was her favorite, and she ate nearly half a bar in her final moments this morning.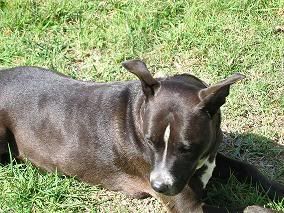 I always said it could the day after Armageddon and this dog would eat! She was a pit bull, after all, and they're famous eaters. She also had that strong pit spirit that kept her with us for three years after the vet diagnosed her with cancer and gave her 6 months to a year. And it was a good three years up until a week or so ago.
Above is a pic of Tina when we lived in the Sonoma Wine Country. She was covered in mud and so happy! She spent her younger years running through the fields and vineyards that surrounded our house in the country. Life was quieter in her golden years, but we treated her like the princess she was.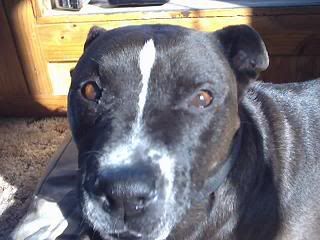 We're going to miss her terribly. She was very much loved!
Rest in Peace, our darling Tina
1993-2007