Happy Release Day!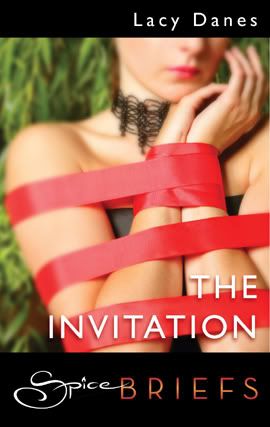 ...to my dear friend Lacy Danes. Her Harlequin Spice Brief, THE INVITATION, is available now!
I'm so excited for her-she sold to Spice Briefs a few months before I did, so we're Briefs sisters-lol! They did a wonderful job on the cover-so descriptive of the story, and I swear the woman on the cover could be Lacy, which is strange and very cool.
Here's a blurb:
Her lover's gift–a unique erotic toy–was accompanied by an invitation: Wear this gift and meet me on the trail at dusk. Following his direction, she wore no bra or panties under her hiking outfit. As they entered the woods, the anticipation was more than she could bear. Soon their game would begin–dominant man in control of his spirited woman–and she would glory in the intoxicating thrill of submission.
Buy it now!
Or take a look at her website if you'd like to find out more about Lacy and her lusciously erotic writing.
I'm also excited to be getting to work on the outline and opening chapter of my next Bantam book. No title yet, but this one is about a prostitute. I'm always totally in love with the idea of what makes people tick, and this is a very complicated character, so even though this book will be a challenge to write in many ways, I'm also going to have a great time with it. My characters got me out of bed this morning-they wouldn't stop talking to me! Yes, this probably does make me slightly schizophrenic, but that's the way a writer's mind works. The sex in this book is going to be hot and dirty, which is always fun to write, and my heroine is complex and a bit twisted up inside. I can't wait to really get into it. But I also have to do some revisions on Forbidden Fruit, so I must shut these new characters down long enough to work on the last book. It's like being pulled in two directions. I loved writing Forbidden Fruit-surprisingly, it was more fun than anything else I've worked on for a long time, and I'm so, so excited about the new book, so it's all good.
Back to work!