Guest blogger Crystal Jordan!
My tattoo fetish novella, THE ART OF DESIRE, is coming out May 20th! This story is part of the HOT NIGHTS, DARK DESIRES erotic anthology, with authors Stephanie Tyler and Sydney Croft. In honor of my book release I am dedicating the month of May to tattoos! I have a number of fabulous guest authors this month, including Stephanie Tyler and Larissa Ione (together they're the writing team of Sydney Croft), R.G. Alexander, Lillian Feisty, Jaci Burton,

Kalen Hughes

and Adriana Kraft! A new post or interview will go up every few days throughout the month, so check back!
We start the month with Kensington Aphrodisia and Samhain author Crystal Jordan.



Masochistic Memories and Contract Dreams...

Dallas, Texas

Tuesday, July 10, 2007

This is the story of how I sold to New York. And then got my first tattoo.

I arrived in Dallas late Monday for an early Tuesday tourist day before the Romance Writers of America conference began on Wednesday. I slept in Tuesday morning and was woken by a call from Eden (my naughty goddess) and we discussed what we'd be doing for the day.

A call beeped in, but it wasn't a number I recognized. I considered not answering because, well, I was talking to my friend and who knew if it was some ass-clown telemarketer trying to sell me something while I was on vacation. Then I realized it could have been one of my fellow Romance Divas, all of whom got my cell phone number and a "Call me when your flight arrives!" One of them could have been wandering around the lobby alone. (Author's note: if the 212 area code pops up on ye olde caller ID, it's time to spiral into gleeful hysteria).

I told Eden I'd be right back and clicked over.

"Hi, this is John Scognamiglio of Kensington Publishing..." My first thought was that's not how I said his name in my head. Mild buzzing in ears. "I'd like to offer for your story..." More buzzing. He wanted to buy my polar bear shape-shifter story that I sent in ON A LARK AND THOUGHT GOT LOST IN THE MAIL.

At this point it had been about 10 minutes. WHY Eden stayed on hold that long, I'll never know, but I clicked back over to her and started screaming and jumping up and down on the hotel bed. (I apologize to the Hyatt Hotel...I don't think I did any real damage to the mattress.) Eden cried and I called everyone who's ever met me while trying to shower and do my hair so I could run downstairs to Eden and Lillian Feisty's room to get a proper scream-fest and hug-a-thon going on. I'm lucky it wasn't the day I sold to New York and then got electrocuted in the shower by my cell phone.

Anyway. I told you that story so I could tell you this story. (I hope I'm not the only one who knows where that line comes from--what can I say? I have plebian tastes in comedy, and shamelessly so.)

That day, Melissa Francis, a wicked-funny young adult writer we know, decided to take a jaunt down to Deep Ellum (an artsy district of Dallas) to visit a tattoo and piercing parlor to get her nose pierced. And as with any chick-gathering, fifteen people have to go to witness the event. I mean, have you seen us go to the bathroom? We must bring the herd with us! While there, I mentioned that I'd always wanted a ladybug tattoo on my foot. Just a little one. Teeny, in fact.

And here's what you get when you tell a bunch of tattoo junkies that you want to get inked WHILE IN A TATTOO PARLOR.

A slew of authors proclaimed that on this auspicious occasion of my first New York book sale, I must commemorate it by allowing someone to stab me with needles. And, what's more, there was no way I could get out of it, because they were all going to chip in and pay for it.

Oh. Holy. Jesus.

No wimping out now.

So, a stunned tattoo artist had me sit in his little booth and then got overrun by a herd of women, all armed to the teeth with cameras to record The Tattoo Deflowering of Crystal Jordan. I don't think he could have been happier when he was informed that we're all erotica authors--and he immediately asked to be featured in our books. He transferred the artwork on to my foot with some kind of tissue paper, and my posse weighed in on placement and color options. R.G. Alexander and Lia Morgan, the resident nurses of our little group, took up their posts on either side of my chair to squeeze my hands. (Later pictures revealed I looked rather like a cow in labor with my two helpers)



Feisty and Eden, especially, were absolutely giddy at this point. They were practically dancing in the booth with a secondhand high off my tattooing. The rush of endorphins, they said, would be amazingly awesome and totally counteract the pain.

I have to say, I was more nervous about the artist hitting a nerve and the ink streaking up my ankle in an irremovable line. I had a friend that this happened to. When he started the tattooing-thingy (that's a technical term) and it began vibrating wildly in his hand, I was absolutely sure this was a bad idea. How was he going to draw within the lines of my tiny ladybug with that thing shaking all over the place?

Then the pain hit.

I think I squeezed R.G. and Lia's hands so tight I might have broken their fingers. Thankfully, they kept the screams of agony in so as not to startle the tattoo artist and give me one of those aforementioned indelible lines. All I could think was, "Is it over yet? Is it over yet? Where's my freakin' endorphins? IS IT OVER YET??" I don't remember what I might have said during the fifteen minutes it took him to ink me, but I imagine there was a profuse amount of profanity. My potty mouth is a force to be reckoned even when I'm NOT in considerable pain. And at that point, oh, I SO was.

I have to say, the endorphin rush thing never happened for me. That little ladybug hurt and continued to hurt for several hours after it was over.

It was only when he was DONE that the artist mentioned the foot was one of the most painful places to get tattooed, but he hadn't wanted to scare me beforehand. Gee, thanks, buddy. He's just lucky I don't remember his name, or the only role he'd play in my book was to get tortured to death. Slowly.

I do have several characters in my current and upcoming books with tattoos, so it's good to know what it feels like, including the burn of anticipation just before the needle touches your skin, and the way the buzz feels as if it vibrates through your whole body. And the pain. That, I won't forget soon. Or ever.

However, when all is said and done, I wouldn't go back to change a thing. I love my little ladybug (and I'm thinking of expanding the piece to include some flowers for my bug to stand on and one of my favorite Anne Bronte quotes). It was great to have my girls with me even if they DID harass me for being a wimp.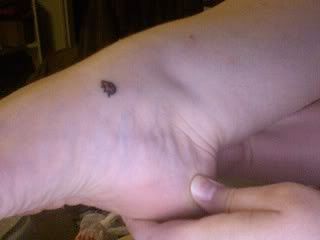 Writerly Bio:

Crystal Jordan began writing romance after she finished graduate school and needed something to fill the hours that used to be eaten away by homework. She is originally from California, but has lived and worked all over the United States. Currently, she serves as a librarian at a large research university in the Rocky Mountains and writes paranormal, futuristic, and erotic romance.

Upcoming Releases: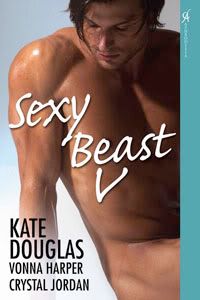 "In Ice" in SEXY BEAST V releases from Kensington Aphrodisia in September 2008

When Jain Roberts' ship crashes on a distant, futuristic planet, she's rescued by Kesuk, the lusty clan leader of the Arctic Bears. This magnificent creature with white-blond hair and a potent masculinity haunts her dreams--dreams he intends to make deliciously real, as he draws her into a realm of complete sexual abandon.

TOTAL ECLIPSE OF THE HEART releases from Samhain Publishing in October 2008

This story kicks off my "In the Heat of the Night" series!

When Lena walks into the Eclipse bar, she turns Rachel's world inside out. She's a werewolf who scents her mate, and nothing will stop her from claiming what's hers.

Rachel has always assumed that when she mated with Jerrod she'd never know another lover, despite her longing for both men and women. No werewolf would be unfaithful. Ever. She's terrified of how the man she loves will react when he finds out the instincts that drew her to him five years ago now pull her to another woman.

What's a werewolf to do when she finds her soulmate

twice

? It's a total eclipse of the heart.