Today is the day!

My erotic anthology, HOT NIGHTS, DARK DESIRES, is out today!

Inspired by the sultry heat and sensual ambiance of New Orleans, this steamy collection by Eden Bradley, Stephanie Tyler and Sydney Croft delves into the erotic underground of the Big Easy. Here is a tantalizing trio of stories that will tease your imagination—and seduce your senses.


Lush, haunting, and provocative, New Orleans has something to satisfy every desire—as three very lucky women are about to discover. In "Shadow Play" an ex-supermodel desperate to revive her career seeks the help of a gorgeous, reclusive photographer with a special gift—and offers him anything he wants in return. The result is a series of erotic positions captured on

film—along with a mind-blowing physical

connection neither expected…. In "The Art of Desire" a sheltered young woman turned on by the idea of getting tattooed dares to make her fantasy a reality. But as her arousing sessions with a dangerously handsome tattoo artist

move from the tattoo parlor to the bedroom, they make an impression that's more than skin deep…. And in "Night Vision" when artist Catie Lanford hires professional cooler Bat Kelly to whip the failing bar she's recently inherited into shape, she's not looking for a lover—until she lays eyes on the sexy wild man. Soon they've agreed to mix business with pleasure, and Catie discovers that Bat is just what she needs to set her artist's imagination—and her body—on fire.

Abandon your inhibitions and excite your spirit with a gathering of tales that's as sexy and spicy as the city of New Orleans itself.



My story in this anthology, THE ART OF DESIRE, was a joy to write! As some of you know, I'm completely fascinated by tattoos, and have a bit of my own body art. For me, tattoos are sexy, a little tough. And something I've been obsessed with since I was ten years old.

Growing up, my best friend and I both had older siblings, so we were introduced to rock music at an early age. By the age of ten, I was listening to bands like T-Rex, The New York Dolls, Alice Cooper, and crushing on a lot of these guys. Alice Cooper had a huge impact on me-I listened to the Billion Dollar Babies album daily for years and probably still know the lyrics to every song to this day. Most of his band members were tattooed, and I think that was part of what solidified in my mind as being cool and sexy, so I've had that connection between body art and sex in the back of my head for a long time.

I got my first tattoo the moment I turned eighteen, in 1980-a rather poorly done pegasus. I loved it at first-or, I loved being tattooed, anyway. But soon enough the novelty wore off and I knew I would have it covered someday, when I could afford it, and when I found a truly talented artist. This was a much harder task in those days. Tattoos weren't as common as they are today, and you really only had two options: biker tattoos (which is what mine was) or the really fine Japanese work done by people who had often gone to Japan to study, and wouldn't bother to touch anyone who wasn't serious enough to dedicate an entire arm or back to it. So, I waited. A long time…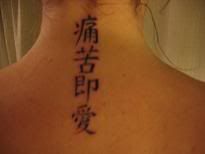 I had my second tattoo, a line of Kanji work (Chinese symbols) down the back of my neck only a year and a half ago. What it says is very personal (I think all tattoos should be meaningful!), but as a writer, the written word itself was also an important factor-and I think it's beautiful.
Last October, while in San Francisco with two close writer friends, Lillian Feisty and Lacy Danes, we all got tattooed-a girl bonding experience. Feisty has several tattoos-some truly incredible work, which she'll blog about here on the 22nd. Her artist is in San Francisco, a woman of incredible talent. I had one small cherry blossom done on my ankle. Cherry blossoms are a symbol of rebirth and renewal, and that's what I feel my writing career is for me, so that tattoo has a deep meaning, as well.



I still needed that sad pegasus covered, and I knew this artist was the right one to do it. I went back to San Francisco in March, with Lillian Feisty and another friend, author Crystal Jordan. It was an almost magical experience for me. I was full of endorphins and really in a trance state the entire time-about 4 ½ hours. Other than a small bit at the bottom which covers the old image, the piece still needs to be colored in. I'm going back in August to have it finished, and I can't wait!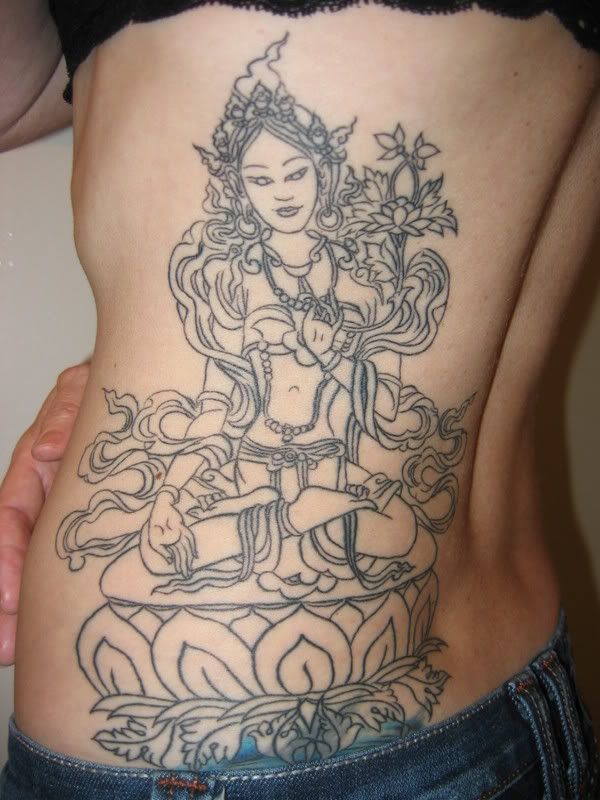 So-that's my tattoo story-so far, anyway. I love my body art! I love tattoos on men and women, and I think full sleeves on a man is especially sexy.

How do you feel about tattoos? Do you have any, and if not, would you ever get one done? Do you think they're fine on men, but not on women, or does it depend on the person? Don't be afraid to say you hate them-I won't be offended! I know body art is not for everyone. But if you would get one, what would you want? I want to hear your thoughts!



***CONTEST***


I know-I rarely run a contest, but I'm doing it today! Anyone who posts here between today and midnight on the 25th will be eligible to win one of two prizes: One winner living in the continental US will win an ARC of my upcoming October novel, FORBIDDEN FRUIT! One winner from outside the US will win a copy of my e-book from Phaze, BREAKING SKYE! You can find more information about these, and all of my books, on my website: www.EdenBradley.com
Winners will be chosen on the 26th-be sure to let me know at the end of your post if you're a US resident or not. I'll announce the winners here on my blog on the 27th, when author Kalen Hughes will be my guest!

Meanwhile, here's an excerpt from my tattoo novella,

THE ART OF DESIRE

:


**WARNING** erotic content ahead!!!!!!



They got on his motorcycle and she wrapped her arms around his waist, loving the heat of his body pressed against her breasts, between her thighs. She ached all over, her body hungry for him. She needed him to touch her. To tattoo her.
Yes.
The ride back seemed to take forever. But finally they pulled up in front of Beneath the Skin. The sign was turned off, the shop closed. Tristan got off the bike, helped Sophie off. Even with his back to her as he unlocked the front door, she could feel the energy between them.
Inside, it was quiet and dark. Tristan stood at the doorway to the back room, held the curtain open for her. She moved past him, remembered the first time she'd done this same thing, breathed in his scent as she passed him, just as she'd done before. She felt an odd sense of isolation moving through the empty shop, a heavy sense of them being alone together. Her pulse was hot, racing.
Tristan turned on a light over his chair. "Come and sit down, Sophie."
She did, watched as he sat on a swiveling stool and prepared his equipment. Just watching him move, hearing the buzz of the tattoo gun as he tested it, made her heart beat harder in her chest, make her legs go warm and weak.
Finally, he turned to her. "I have a feeling you know exactly what you want. Don't you?"
Oh, if he had any idea...
"Yes."
His eyes on hers were dark, glittering. "Tell me."
"Cherry blossoms. A scattering of them across my back, from my left shoulder, starting just under the Kanji symbol, then kind of blowing in an undulating curve, over to the right side, then down to the left hip. And I want you to do them mostly in black and white, but with a few touches of pink. Is that alright? To add some color?"
"I'll do it however you want me to. But you're sure? That you want to be tattooed again? That you want your body marked in this way?"
"Yes. I'm sure."
Yes. Oh yes...
"I'm going to free-hand it, rather than using a transfer, alright?"
"Yes. I trust you. I know it'll be beautiful."
He nodded. "I'll need you to take off your shirt. Probably your bra, too. Here's a towel; you can hold it over the front of your body."
She took the towel, even though she hardly cared about covering herself. Her system was still thrumming with need; being naked in front of him would be perfect.
Such a sinner. Your mother is right.
She would worry about that later. Feel the guilt, which she was almost coming to enjoy.
God, you really are a mess!
She pulled her shirt over her head. Tristan turned away as she unsnapped her bra and laid it on the counter, held the towel over her breasts.
"Turn sideways in the chair, as you did the first time. It works better than laying you flat on the table."
She nodded, swung her legs to the side, resting the front of her body on the arm of the vinyl chair.
He began with some sort of marking pen, sketching onto her skin. It tickled a little. Not as good as the tattoo gun, but she closed her eyes, let herself sink into the sensation.
He finished quickly.
"I'll add more as I go. Do you want to look at it in the mirror before I start?"
"No. Just do it."
He started the tattoo gun, the buzzing of it trembling through her body: pleasure, anticipation.
When he touched the gun to her skin, the anticipation turned to liquid lust. Her sex went damp, her nipples came up hard against the arm of the chair, the rough towel abrading the sensitive flesh. She pulled in a deep breath, blew it out, trying to get herself under control.
The tracing of the needle, a humming on her skin as he began to work, made her quiver inside. She flexed her toes, trying hard not to move. And every touch of the needle went through her as though he had his hand between her thighs.
"Are you alright, Sophie? Not too much pain? Your breath is coming fast."
"No. No pain at all."
No pain, just pleasure. Exhilarating. Ecstasy.


********


Labels: art, body art, erotic romance, erotica, fetish, tattoo