Stephanie Tyler, Larissa Ione & SydneyCroft, oh my!
Today's guest authors are my anthology-mates, Stephanie Tyler and Larissa Ione, who together make up the amazing writing team of Sydney Croft! Our erotic anthology, HOT NIGHTS, DARK DESIRES, (out on May 20th!!!), contains one story by me-THE ART OF DESIRE- and one each by Stephanie-NIGHT VISION and Sydney-SHADOW PLAY. Each of these stories takes place in the sultry south, in and around New Orleans.


In keeping with the tattoo theme to celebrate my tattoo fetish novella, THE ART OF DESIRE, in our May release, HOT NIGHTS, DARK DESIRES, Steph and Larissa are here to talk about their own tattoos and their tattooed characters.


Larissa:



First of all, I want to thank Eden for inviting us to blog with her this week! I feel very fortunate to be sharing an anthology with her, and let me tell you, you're going to LOVE her contribution! What a unique idea, to build a story around tattoos.

Ever since I was a little girl, I've been fascinated by them. My earliest memory of a tattooed man goes back to my grandpa, who had a tat on his left biceps – time had caused it to fade, but it still captured my attention, and because of him, I've always seen skin art as something uniquely individual, and in no way "wrong."

So when I grew up, I knew I had to have my own. Turns out, I'm a big wuss, so my tattoo, a Star Trek symbol (the Vulcan IDIC,) is only an outline on the inside of my hip, but still, it's mine. And I love it.

But because I'm a big wuss and can't seem to either have the tattoo filled in or get a new one, I live through my characters…who often have tattoos or some sort of dermal glyphs of their own. Still, I'm determined to get one more tattoo, something I swore I'd do when I sold my first single-title book – which I did. Turns out, the book, PLEASURE UNBOUND, has been branded with a symbol unique to the Demonica series…which is set in and around an underworld hospital.



See, I had a caduceus (the familiar winged medical staff encircled by serpents,) designed, one that would work for a hospital staffed by demons, vampires, and werewolves. The really great thing about the caduceus is that the design is perfect for a tattoo. In fact, I've had requests for the design from people who want to have it tattooed on their bodies.  I've asked them to send pictures when they do it, so hopefully I'll post them on my website soon.

So I think I might get over my wussiness to have the demon caduceus tattooed somewhere. My ankle, maybe, or my shoulder. I just need to get up the nerve!



Stephanie:



I've had my first tattoo a long time – like, hide it from your parents, long. I got it at a random tattoo shop by a 300lb biker named Tiny who was eating orange Hostess snowballs and calling them nutritious.

I probably should've run, but I wanted the tattoo. It's a small dolphin and it's sort of on my upper left ass cheek. Or right – I can't remember, mainly because I can't see it.

But I always wanted more and kind of put it off – and so I told myself that I'd get them after I sold my first book. I did that in February 2006 but it took me until September 2007 to decide what I wanted. My neighbor and friend (she's 22 now but I taught her when she was in 6th grade) took me to the place she'd been going to. So no, I didn't corrupt her – she already had like 4 tattoos by that point. Ones her mom didn't know about. She does now, however and I pretended to be shocked.

So I wanted two – one on my ankle and one on the back of my neck. I got them both done on the same day (high pain tolerance here) – it took most of the afternoon once I decided on placement and colors. My ankle is three stars and my neck is a nautical star, for protection and guidance. It's a symbol of what I write as well as for my grandfather, who was a sailor and had several tattoos.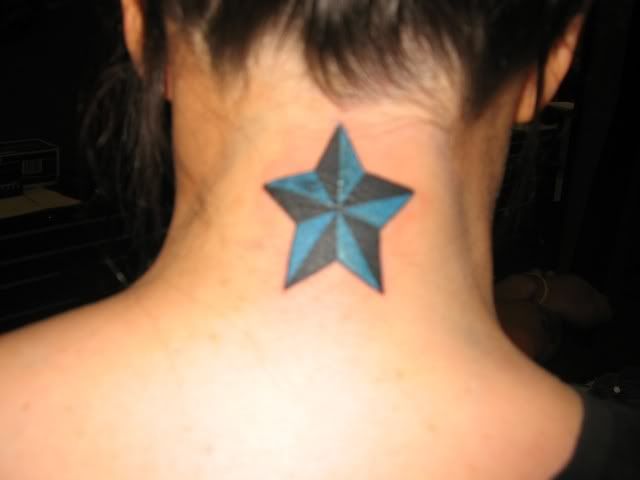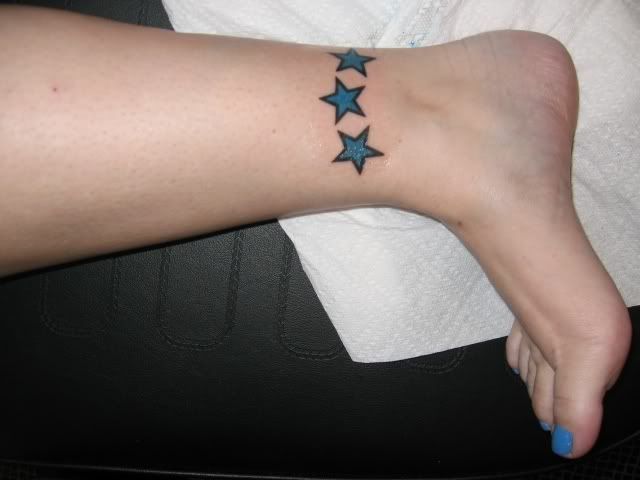 And in the middle of the ankle one, the tattoo artist mentions that his name is Cash. Cash!!! Like the hero of my 2nd Blaze. It was fate!

Did I mention that I'm allergic to bacitracin? Well, I am. Didn't know it at the time, until after my ankle tat got infected. Thank GOD my neck was fine, because my mom was already all, it's so close to your brain. And god knows, I can't afford to lose more brain cells.

The ankle eventually healed, but most of the blue ink from inside the stars is gone – they look sort of tie-dyed now. So I'm planning to go back and get them fixed. While I'm on antibiotics and NOT using bacitracin.

And while I'm there, I'll probably get another – either wrist or back.

I've had people say to me, what's going to happen when you're a grandmother and your grandchildren are like, look at that thing on your neck – what will you say?

I tell them, I'll be like, hell yeah, I had FUN! So no, no regrets, even with the infection. I like to look at them as snapshots of a certain time in my life – things I've accomplished – where I've been and where I'm going.




Larissa, Stephanie, and Sydney Croft's Tattooed Characters:





Stephanie says:

In the NIGHT VISION novella, my hero, Bat, has a tattoo – as a former Marine sniper, he's got ink that symbolizes that part of his life. In my first Blaze, COMING UNDONE, the hero's brother was all tatted up and pierced too.

Oh, and then there's Creed, from the Sydney books! He's tatted over one whole half of his body, head to toe. Plus he's got come interesting piercings too.



Larissa says:

Mmm…Creed. *wipes the drool* And when Steph says he's tatted over half his body, she means it. Half of everything. *drools some more*

Also, from the Sydney Croft books is Haley Holmes, from RIDING THE STORM. She's got a tattoo in the same place I have, and her tattoo is the one I would have gotten if I hadn't gotten the Star Trek tattoo. In the books, she's an Air Force meteorologist, and on a drunken dare while in the military, she got a tattoo of a hand holding bolts of lightning. Her tattoo plays a role in the books, but I can't tell you how! *g*
In my Demonica series, several characters are tattooed. All three heroes in the first three books have tattoos that run from the tips of their right fingers to their necks…a history of their paternity, and something they are born with. They each have their own individual symbol at the very top, on their throat. The male torso and arm built into my website design looks very much like those heroes.

One of the subplot characters, Gem, also sports several tattoos. Some, like the rings around her wrists, ankles, and neck, are ensorcelled, meant to contain her demon half. But the others, a dragon on her stomach and a long-stemmed rose on her leg, are there just because she enjoys tattoos. And piercings. Lots and lots of piercings…

Stephanie says:

So there you have it…there's just something very alluring about tattoos (and piercings too, although I don't see any of those in my future.) - I can definitely see why Eden had so much fun writing her novella about a tattoo fetish. What about you? Do you like tattooed and pierced characters, even if you don't like them / want them in real life?



Larissa's bio and blurb:



Larissa Ione, an Air Force veteran, has been a meteorologist, EMT, and professional dog trainer, often all at the same time. Yet she never gave up on writing fiction, and is lucky enough to now write full time, which is a blessing given her husband's military career.
She lives a nomadic lifestyle with her U.S. Coast Guard husband and son, though she considers the Pacific Northwest to be home. An animal lover to an extreme, she adopts any kind of animal she finds, and has been known to nurse back to health anything from mice to baby owls. She currently stays busy writing for Red Sage, Samhain, and Grand Central Publishing under her own name, and for Bantam Dell as Sydney Croft, with writing partner Stephanie Tyler.

Larissa's newest release is PLEASURE UNBOUND, out on June 24th:



Someone is killing demons–someone other than the Aegis demon slayers, anyway. Now Eidolon, a doctor at Underworld General as well as a demon whose instincts to mate are growing stronger, must pair up with a sexy Aegis Guardian named Tayla Mancuso to learn the truth behind the killings. But Tayla has her own agenda. Her assignment is to find a way to destroy Underworld General. When she falls for Eidolon, who has shown her erotic pleasures she'd never dreamed of, she must face the horrors of her past and choose between becoming one of the very creatures she's hunted–or death.



Stephanie's bio and blurb:



Stephanie Tyler has long since given up trying to control her characters, especially the Navy SEAL alpha males, and today she writes military romance for both Harlequin Blaze and Bantam Dell. And, because she loves being busy, she also writes paranormal erotic romance with a military twist for Bantam Dell with co-author Larissa Ione under the pen-name Sydney Croft. Stephanie lives in New York with her husband, her daughter, a weimaraner and her blog.

Stephanie's newest release is the novella, NIGHT VISION and Sydney's is SHADOW PLAY, both from the HOT NIGHTS, DARK DESIRES anthology, along with Eden's novella!

Inspired by the sultry heat and sensual ambiance of New Orleans , this steamy collection delves into the erotic underground of the Big Easy. Here is a tantalizing trio of stories by three rising stars that will tease your imagination—and seduce your senses.

Lush, haunting, and provocative, New Orleans has something to satisfy every desire—as three very lucky women are about to discover.

In "Shadow Play" (by Sydney Croft) an ex-supermodel desperate to revive her career seeks the help of a gorgeous, reclusive photographer with a special gift—and offers him anything he wants in return. The result is a series of erotic positions captured on film—along with a mind-blowing physical connection neither expected….

In "The Art of Desire" (by Eden Bradley) a sheltered young woman turned on by the idea of getting tattooed dares to make her fantasy a reality. But as her arousing sessions with a dangerously handsome tattoo artist move from the tattoo parlor to the bedroom, they make an impression that's more than skin deep….

And in "Night Vision" (by Stephanie Tyler) when artist Catie Lanford hires professional cooler Bat Kelly to whip the failing bar she's recently inherited into shape, she's not looking for a lover—until she lays eyes on the sexy wild man. Soon they've agreed to mix business with pleasure, and Catie discovers that Bat is just what she needs to set her artist's imagination—and her body—on fire.

Abandon your inhibitions and excite your spirit with a gathering of tales that's as sexy and spicy as the city of New Orleans itself.

***Look for Stephanie's newest Blaze release, BEYOND HIS CONTROL.