Truth and the Lotus
R.G. Alexander
For me, it was a spiritual thing. Both my tattoos are cover ups from scars of yesterday that I would rather forget. I felt strongly that my new body art should represent future and rebirth as opposed to simply hiding the past.
Spirituality and mythology have always been my passions, and so I knew immediately what my first cover up would be: the Pink Lotus. In Buddhism, the pink lotus is the supreme lotus of enlightenment, generally reserved for the Great Buddha himself. The pink lotus is also considered the national flower of India and strongly associated with the Goddess Lakshmi in her divine mother guise, offering prosperity to all her children. The Egyptians also imbued the flower with great spiritual power and affiliations.
The lotus grows up from the mud and through the water, the strength of its stem allowing it to ascend beyond the other water flowers. It is the soul and spirit within us, our divinity…our ability to overcome struggles and karma and reach for the stars.
I loved having it done. Though it was a large cover up, all I felt was joy and fascination as I watched the artist work on my left calf for nearly two hours. It was truly a spiritual experience.
The other cover up was much smaller. I'd found the Sanskrit symbol for sacred truth in the dictionary my sister had given me for Christmas. So I had that symbol placed on my right shoulder blade. Enlightenment and sacred truth sounded like pretty good life goals to me, and the perfect weapons to take with me on the beginning of a new journey…a new life.
As an important side note-I would like to add that my obsession with mythology will be fed today and all weekend over at Romance Divas, where we are having a free for all workshop on Mythology in Romance. P.C. Cast, Gena Showalter, and a whole host of others will be there, answering questions and allowing me to be the fan girl I am. Come check it out!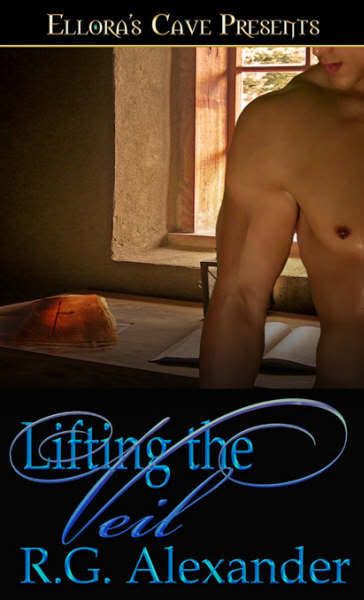 About R.G. Alexander
Stolen away by a free spirited Gypsy as a child, (though she still swears she's my mother) I spent my childhood roaming the countryside, meeting fascinating characters and having amazing adventures. As the perpetual "new kid", my friends more often than not were found between the pages of a book…and in my own imagination. I read everything I could get my hands on. At the age of 11 I read my first romance, and I've been hooked ever since.
Throughout all of my varied careers I would sigh as I read one fantasy-filled story after another saying, "Someday I want to write one of those". Until one day my husband said, "So do it". And I did. Now I can't imagine doing anything else.
Upcoming releases:
Who Needs Another Superhero? releases from Ellora's Cave in June 2008
The sequel to Who Wants to Date a Superhero? Available now at Ellora's Cave!

Return to Gaia City.

Where there are way too many Superheroes for Dayna's piece of mind.

Growing up as the unofficial mascot for Gaia's Guardians and sibling of the powerful Theta Wave hasn't been easy. So maybe she overcompensates. Takes risks she shouldn't. You try going through puberty in front of super men with super hot, totally unattainable bods. It's enough to give a girl a complex.

Stone Matthews was an introverted geophysicist, until the day he wandered into the burial chamber of an ancient and powerful ruler and became...Rock Hammer.

Sure, now he's an invincible chick magnet, but he still has no idea how to deal with women. Especially Dayna. The tasty little reporter has always pushed his buttons, but he held her at arms length. She's Theta's little sister after all.

With Triad still missing, Theta on his honeymoon and the lair in disarray, there is no one around but Rock to save the day when Dayna goes chasing after The Pearl of Isis and a story that could be the death of her. And when he gets his hands on her, all bets are off.

Lux in Shadow releases from Samhain Publishing this August 19, 2008

Children of the Goddess, Book 2

Because of his own carelessness, Lux Sariel lost his lover at the hands of the shaman Gray Wolf, and put his Trueblood family in grave danger. Now he's been sent on a mission to find and protect his mortal enemy's sister. His companion is Arygon, a sexy Alpha who doesn't know how to take no for an answer.

When the two find Sylvain, a sheltered and innocent beauty with power beyond imagining, passions ignite—and suddenly none of them are certain of the future.

No one but the Goddess.

She has a plan that will change everything for Her children, Were and Vampire alike. A challenge that will fulfill the promise of what this unusual threesome have found together…or destroy them all.

Piercing the Veil coming soon to Ellora's Cave, yummy cover and all. The sequel to Lifting the Veil, available now at Ellora's cave!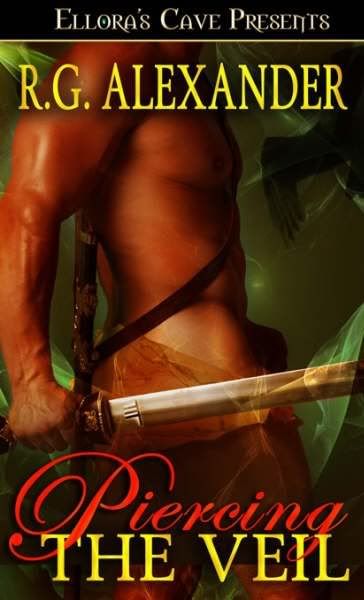 Temptation Unveiled, Book 2

Twins Hawk and Val are Fianna warriors under the vengeful curse of a scorned goddess. Following the prophecy in the Book of Veils, they search for the one who can help them retrieve the Claiomh Solais before their enemies get the chance. Their quest leads them to Linnea. One touch and there can be no doubt that they have found their match. But will she accept them once she knows the truth?

Linnea is no one special. So why is she on the run from evil faeries and her egotistical ex? Why is she suddenly spending time in the company of dragons, druids, and one kinky Viking with a split personality? All she knows is she has to keep her daughter safe from those who hunt her, and her heart safe from another betrayal.

To protect one gifted child and all of humanity from the dark god that seeks retribution, they must learn to trust each other. To have a future together, they must find the perfect balance.

Also available now from Samhain Publishing:

Regina in the Sun

.


Children of the Goddess: Book One
There's only one place left to run-into forbidden arms.

Children of the Goddess Book One

When she arrives at Ye Olde Haven Pub, the sanctuary for Trueblood Vampires, Regina is wounded and desperate. Her only thought is to save the Deva Clan, her family, from the dangerous Loups De L'Ombre, the Shadow Wolves. She knows she will not exactly be welcomed with open arms. She is, after all, an Unborn, the lowest caste of Vampire.

As a natural born from the purest line, Zander Sariel knows the rules are sacrosanct-a Trueblood mates with his own kind. But one taste of the young Unborn is all Zander needs to know that rules were made to be broken.

With enemies at every turn, Zander risks everything to save Regina from the monster that hunts her, his own kind's ignorance and-if he must-her lack of faith in her own unique abilities.

Only together do they have a chance to defeat the shadow that haunts their future, and save their entire race from extinction.

Visit her website! www.rgalexander.com
Or her blog, The Willow's Knot, for news and updates!