Do you ever get that tingly feeling in your stomach just looking at a really fabulous pair of shoes? Do a pair of shiny stiletto heels make you want to touch them, wear them, own them? Do a pair of great wedge espadrilles make a sm
all, warm shiver run up your spine?
I was in Vegas once a few years ago and discovered the Jimmy Choo store in the Venetian Hotel. I walked in and it was...magic. Every pair was more beautiful than the last. And then I saw them, that one pair of shoes that will stay with me forever, the pair that nearly made me, prissy girl that I am, drool in a public place. They were a deep, burnished orangy-gold silk with the most delicate 4 inch stiletto heels, a sweet, pointy little toe and a narrow strap, at the end of which was a small tassle made of tiny golden chains. Even now, I get all trembly simply thinking about them. I stared and stared. I dared to reach out and stroke them with one gentle fingertip. I l
eft needing a cigarette. And I don't smoke.

If you have any idea of what I'm talking about, then Shoe Day is for you!
Those of you who know me know I love shoes. Actually, you could say I'm obsessed. So, I thought I'd start a monthly Shoe Day on my blog, for those of you who enjoy shoes as much as I do. Okay, you don't have to enjoy them
quite
as much...
Let's start out with some of my own favorite pairs...
My new gladiator sandals are so in, but I'd love them even if they weren't. There's something almost bondage-y about all those straps. And they're comfortable-bonus!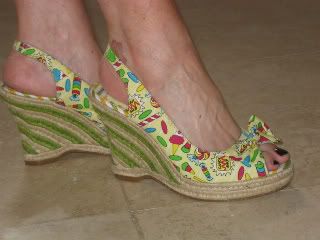 Another pair of wedges, my new candy-print espadrilles. These shoes just say summer to me! They look great with a pair of rolled-up jeans. I have a particular love for strange shoes, as you can see.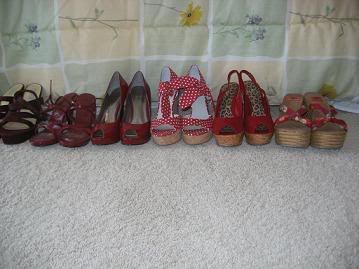 These are all of my red shoes. I can't remember what inspired this particular pic, but I just like looking at it. Can't have too many red shoes! Hmm...maybe I need to go shopping...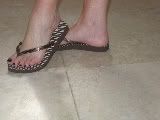 For you more casual girls, my newest flip-flops, in bronze and cream. They're so neutral, they go with everything. And flip-flops barely even count as shoes, so you can have dozens of them! I'm managing with 7 or 8 pair.

I love these white pumps! They're sort of Barbara Bush, but in a twisted way. Love the hardware. I think they're so hot! Killer shoes, but I am totally willing to sacrifice comfort for shoes of this caliber. They're even hotter in person.
These are my newest stilettos, and they are truly the sexiest shoes ever! So much better in person. They are so sleek and shining, the straps crossing over the toes at exactly the right spot. I was with my friend last week, Lillian Feisty, who recently broke her leg. She saw these shoes and went so nuts over them, she

had

to try them on, cast and all. These are the kind of shoes you simply MUST put on your feet. And they're mine. *sigh*
I think that's all I can take for one evening. I think I'll go upstairs and stare into my closet as I drift off to sleep...