Lux is finally here!
The long and breathlessly-awaited LUX IN SHADOW by

R. G. Alexander

is out today!
One of the hottest, most beautiful covers ever (by the fabulous Anne Cain) so you just

know
there has to be something wonderful inside-and there is!
Two mates. One sacrifice. It's a challenge that could save them all…or destroy everything.

Children of the Goddess, Book 2

Because of his own carelessness, Lux Sariel lost his lover at the hands of the shaman Gray Wolf, and put his Trueblood family in grave danger. Now he's been sent on a mission to find and protect his mortal enemy's sister.
His companion is Arygon, a sexy Alpha who won't take no for an answer.

When the two men find Sylvain, a sheltered and innocent beauty with power beyond imagining, passions ignite—and suddenly none of them are certain of the future.

No one but the Goddess.

She has a plan that will change everything for Her children, Were and Vampire alike. A challenge that will fulfill the promise of what this unusual threesome have found together…or destroy them all.
*********
You can find R. G. Alexander's LUX IN SHADOW, as well as Book One in

the CHILDREN OF THE GODDESS series, REGINA IN THE SUN, at Samhain Publishing. And more of R.G.'s books on her website: http://www.rgalexander.com/
Her writing is lush and just...succulent...lovely, sensual prose, and she does amazing world-building for you paranormal fans! Be sure to check out her books!
**********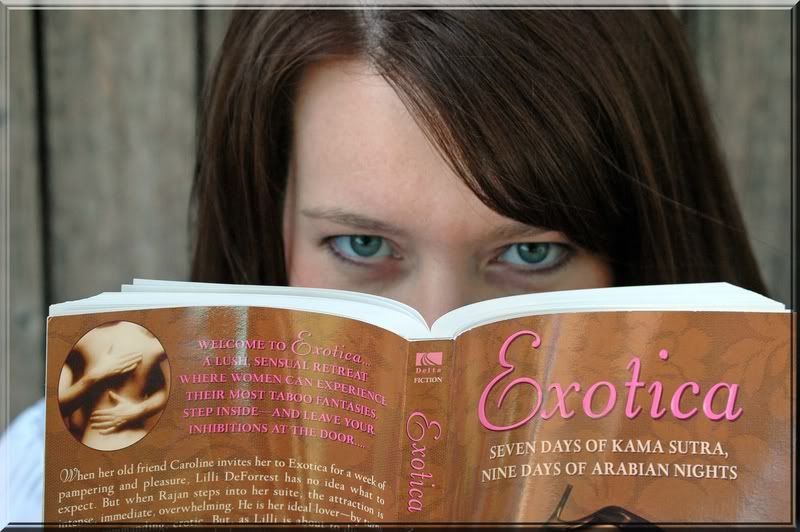 I want to thank photographer Becki Bellino for this great reader shot of my book, EXOTICA: SEVEN DAYS OF KAMA SUTRA, NINE DAYS OF ARABIAN NIGHTS (care of writer Tracy Ward-thanks, Tracy!).
************
What else is new with me? I turned in revisions on my upcoming March 2009 book, A 21ST CENTURY COURTESAN and am waiting to hear back from my editor-let's hope she likes what I did with the book! I'm just getting started on my next book about Shibari rope bondage-getting to know my characters, developing the conflict, getting inside their heads. It's a two-part book, in much the same way EXOTICA is, and in the first story, the hero is insisting I do most of the story from his point of view, including the opening scene. He

is

a Dom, a very powerful personality, so I'm not surprised he's already bossing me around. We may have a little power struggle before this book is done...